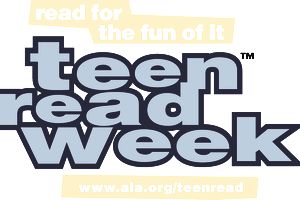 Teen Read Week™ is a national adolescent literacy initiative created by the Young Adult Library Services Association (YALSA) division of the American Library Association (ALA).
Teen Read Week was inaugurated in 1998 and is held annually during the third week of October. It is aimed at teens, their parents, librarians, educators, booksellers and other concerned adults (like authors!), and its purpose is to encourage teens to be regular readers and library users.
For those reasons, Teen Read Week is great for Young Adult authors — and whether established, new, or aspiring there are ways for YA writers to get involved and help build their community.
Those wishing to participate should register to receive communications (there is no cost or obligation).
Teen Read Week Themes
The Teen Read Week slogan is "Read for the Fun of It." In addition, each year, the ALA also chooses a sub-theme for that particular year in order to highlight a particular facet of the benefits of using the library.
For example, in 2014 the theme of "Turn Dreams into Reality @ Your Library" was chosen, in order to showcase how the information and resources available in libraries can form helpful, very concrete steps on the path to a teen's desired life.
The Teen Read Week theme is used to highlight a variety of resources in the library collections — inspirational stories, career resources, how-to books and more.
Use of these materials to increases awareness of the great resources and services libraries have to offer teens and their families (not just books but magazines, newspapers, e-books, audiobooks, live events and more), and helps promote the importance of pleasure reading in all its forms.
How YA authors can participate in Teen Read Week
It's beneficial as well as charitable for Young Adult authors to become involved in and to celebrate Teen Read Week. Here's how YA writers can help spread the word:
Make yourself available
Ask your book's editor or publisher's marketing department how they are celebrating Teen Read Week and how you might get involved.  If they have no plans, keep your publicity department informed of what you're doing — there might be some synergies.
Add your name & contact info to the YA author directory on YALSA's wiki so librarians have a way to get in touch with you when they are planning author events.
Help get teens involved in Teen Read Week
If you already have a YA book published, contact your local school or public library to create an event. This could be an author visit or, if you have a robust blog or other platform or connections for literary prizes, you could help run and publicize a creative writing contest for teens that's thematically relevant to the book or books you write or want to write.
At events, school visits anytime between April and Teen Read Week, encourage the teens you visit to read YALSA's Teens' Top Ten nominations so they can vote online for their favorite books
Help publicize Teen Read Week
Blog or tweet about teen reading and libraries leading up to TRW and during TRW — for example, when the Teens' Top Ten winners are announced. Use the Teen Read Week hashtag (generally #TRW followed by the year – for example #TRW14 or #TRW15)
Libraries and bookstores can order Teen Read Week posters and bookmarks from the ALA store. If your library's budget doesn't allow and you're feeling a bit flush, offer to pay for the materials (it's likely a charitable or author advertising tax deduction – and it's good karma!)
Put a link to the Teen Read Week website on your author's website.
Write a letter to the editor of your local paper discussing the importance of libraries in the lives of teens.