Technical Support Engineer Skills
Technical Support Engineer Skills for Resumes, Cover Letters, and Interviews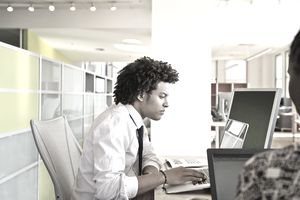 A technical support engineer (also known as an information technology support engineer) helps to solve technical issues. They might work to help a company deal with internal tech issues, or they might assist customers or clients with their external tech issues. They provide support in person, on the phone, or even over the computer. The issues they might help fix include computer hardware or software problems.
Technical support engineers require a variety of hard skills and soft skills. Below is a list of the top five most important technical support engineer skills, as well as a longer list of other skills employers seek in job candidates for this career. Develop these skills and emphasize them in job applications, resumes, cover letters, and interviews. The closer a match your credentials are to what the employer is looking for, the better your chances of getting hired.
How to Use Skills Lists
You can use these skills lists throughout your job search process. Firstly, you can use these skill words in your resume. In the description of your work history, you might want to use some of these key words.
Secondly, you can use these in your cover letter. In the body of your letter, you can mention one or two of these skills, and give a specific example of a time when you demonstrated those skills at work.
Finally, you can use these skill words in your interview. Make sure you have at least one example for a time you demonstrated each of the top five skills listed here.
Of course, each job will require different skills and experiences, so make sure you read the job description carefully, and focus on the skills listed by the employer.
Also review our other lists of skills listed by job and type of skill.
Top Five Technical Support Engineer Skills
Communication
Technical support engineers must be able to communicate technical issues to colleagues and customers with a variety of backgrounds, which means they need to be able to explain the issues and fixes in a way that is equally understood by the tech guru and the tech-challenged user. They also need to be good listeners, carefully listening to the user's concern, and solving his or her problem.
Flexibility
Flexibility is essential to tech support engineer jobs. Typically, they have to work days, nights, or even weekends. Being open to a flexible schedule might help you land a job.
Patience
Often, tech support engineers have to deal with frustrated and impatient clients. They have to listen patiently to each client's concerns, and calmly help solve the problem. Dealing with customers and clients requires a lot of patience, kindness, and understanding.
Problem Solving
Problem solving is what the good tech support engineer excels in. He or she has to be able to listen to the user's concerns, figure out exactly what the problem is, and come up with a plan for resolving the issue.
This often involves creative problem-solving strategies.
Technical
Hard skills are, of course, critical to technical support engineer jobs. Typically, IT support engineers need at least an associate's degree in computer science or a related field. Depending on the company and the specific job, you will need experience working with various software and hardware, web-based applications, and more.
Technical Support Engineer Skills List
A-L
Attention to detail
Basic scripting and programming experience
Command of English language
Confident delivering training sessions
Dedication to problem solving
Extensive PC experience
Familiar with support ticket, call center, and knowledge-based systems
Flexibility
General knowledge of industry principles
High level of concentration and commitment
Independent
Interact with a wide range of customers and technical issues
Interpersonal
Java and JavaScript
Linux / Unix experience 
M-R
Maintain customer relationships
Maintain technical data reports
Manage time efficiently
Microsoft SQL server
Notice problems from a systemic perspective
OSX
Outstanding customer service 
Patience
Prioritization
Problem solving
Programming
Project management
Provide product knowledge, guidance, and support to internal teams 
Quickly learn new technologies
Read and analyze application logs
S-Z
Scripting
Server administration
Sharp troubleshooting and analytical abilities
Team player
Thorough knowledge of Windows environment
Troubleshooting
Understanding of basic industry concepts
Virtual working capabilities
Willingness to explore new technologies
Working knowledge of SQL (MySQL)
X-ray vision recognizing below-surface problems
Yearning to learn more about computers, communications systems, and technology
Zealous approach to problem solving and customer service
Related Articles: Soft vs. Hard Skills | How to Include Keywords in Your Resume | List of Keywords for Resumes and Cover Letters | Skills and Abilities | Resume Skills List