Target's Traditional Career Paths Questionable After Steinhefel Oust
Can Old-fashioned Retailing Practices Still Keep the American Dream on Target?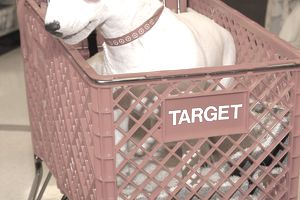 Four short years after an article applauding Target's traditional long-term career path strategy was published (below), the shining example of old-fashioned retailing practices that still work - CEO George Steinhefel - "resigned" from his 33-year Target career.  The "resignation" was more of an ousting, a consequence for the largest data breach in the history of U.S. retailing which happened at Target during Black Friday weekend 2013.  
As part of the data breach incident, it was uncovered that Steinhefel had been part of a 2004 team which had abandoned technological efforts to move toward a more secure chip technology because of the negative effect it might have on sales due to processing slowdowns at the cash register.  
Reportedly this was just one of many short-sighted retail innovation missteps that Steinhefel made during his reign as Target CEO.  According to an investigative report by the Wall Street Journal at the time of the CEO's ousting, Steinhefel made many decisions that transformed Target's leading-edge creatively empowered employee culture into a regimented old school numbers-driven, metrics-controlled company that was failing in more ways than just credit card security.
So perhaps the traditional climb-the-corporate ladder career path is no longer a relevant strategy for the largest U.S. retail chains.  In a retail industry which shifts at the speed of technology-enabled consumer whim, perhaps a long career history is more of a liability than an asset.  Perhaps the forward-thinking leadership that ultra competitive global retailing demands cannot be elicited from a leader who has a historical rather than a completely fresh perspective.
Will Target change its long-term career path strategies due to the scandalous last chapter in Steinhefel's career story?  Apparently so, since Steinhefel's replacement, Brian Cornell, is the first CEO in the company's history to be recruited from the outside.  This is probably a disconcerting disruptor for long-term Target employees who now feel stuck and stalled on some rung of the Target corporate ladder without a clear career path to become a rock star CEO.  
Such a dramatic shift in succession strategies at the c-level will undoubtedly have a disruptive effect on senior management loyalty for the Target corporation.  But like most change, this will not necessarily be bad for Target's future.  It's just different. And "different" is the middle name of the retailing game in the 21st century.
So, once again, the top leaders of the U.S. retail industry are left wondering if there is any value left in traditional retailing practices.  The original 2009 article in its original published form follows as a benchmark to help readers form an opinion about that for themselves.
Most senior leaders in the retail industry these days seem to be primarily driven by shareholder returns, short-term profits, and their own annual compensation packages. The management team at Target, however, seems to have maintained a connection to traditional values that are as refreshing as they are old-fashioned.
Retail employees everywhere can get inspired by the story of Target's Gregg Steinhafel, who has had an unusually old-fashioned career path for a contemporary retail CEO. Steinhafel graduated from college, got an entry-level merchandising job, slowly rose through the ranks, and 29 years later assumed the top position at the company where he's spent his entire career.


Steinhafel's career is a classic tale of hard work that is rewarded, loyalty that is valued, and persistence that pays off. His story, brought to you by Target, represents the essence of American opportunity.

In his 29 years at Target, Steinhafel has held just about every position that has ever existed in a retail organization. He spent 15 years in merchandising roles, and it was 20 years before he was named president. Steinhafel's predecessor, Bob Ulrich, also worked in the company for 20 years before taking the leadership reins. This is a definite demonstration of what Target values in its leadership team - stability, loyalty, and a depth of understanding that comes only with experience.

It seems that their slow and steady executive grooming strategy has paid off well for both the corporation and its shareholders.
Target's sales and store presence tripled under Ulrich's leadership, and its net earnings increased nearly nine-fold in that same time period.

Even more valuable than monetary earnings, Target's leaders have consistently led the company onto Fortune magazine's "Most Admired" list of American corporations. Rather than spending millions of dollars to fabricate an image for itself, Target instead allocates millions to community programs, which in turn, has earned it the kind of reputation that can't be bought.

Many retail organizations claim to have corporate values that seem to be mostly fashioned to boost their image in the eyes of analysts, investors, and consumers. Target has a carefully crafted mission statement as well, but it backs up its words with actions that are both meaningful and measurable.

Target has what it calls a "Community Responsibility" policy, which is deeply rooted in the company's history. Its original parent company, Dayton Hudson, began contributing 5% of its pretax profits to charitable and community organizations in 1946. Target has also participated in this 5% tradition since it was founded in 1962. In economic times that give any company a good excuse to cut back on charitable activities, Target has stayed true to its values by staying true to its social responsibility budget. This has amounted to about $3 million of charitable giving each week, even during the worst parts of the retail recession.

Target, in a word, is grounded. It is rooted in its promise "to provide consistent growth plus a long-term plan to sustain success." Instead of being hyper-focused on temporary metrics like monthly same store sales results, the company's leaders are being careful to give focus to long-term practices that build for the future. Target is one of the few remaining examples of what corporate America has been in the past. It also serves as a shining example of what the U.S. retail industry can resurrect in the future.

It's comforting to know that, at least in one way, the American dream is still on Target.