Survey Says: Even The "Rich" Are Stressed About Money
Despite What You May Think, The Wealthy Have Financial Concerns Too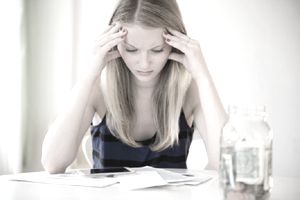 Do you sometimes feel like you're the only person in the world that is stressed out about your finances?  If so, rest assure that you are not alone.  In fact, the American Psychological Association's 2015 Stress in America survey found that money is the leading cause of stress among Americans.  Despite the fact that parts of the U.S. economy have improved, money is still the number one stressor and has retained the top position since the APA first conducted this study in 2007.
Money stress is taking such a toll on the health of Americans that 32% of adults survey said that their finances or lack of money prevent them from living a healthy lifestyle.  Some other highlights that came out of this report are:
Seventy-two percent of adults report feeling stressed about money at least some of the time and 22 percent say that they experience extreme stress about money (a rating of 8, 9 or 10 on a 10-point scale about their stress about money during the past month).
Twenty-six percent of adults report feeling stressed about money most or all of the time.
Significant sources of money-related stress reported by Americans include paying for unexpected expenses, paying for essentials and saving for retirement.
Twelve percent of Americans have said they skipped going to the doctor in the past year when they needed health care because of financial concerns.
Eighteen percent of those surveyed say money is a taboo subject in their family, and 36 percent say talking about money makes them uncomfortable.
While it's not surprising that the highest percentage of those who are stressed are parents, younger adults age 18-49 years old, and those living in lower-income housing, you might find the results of another recent study a little bit more shocking. 
The rich are stressed about money too
This year, UBS conducted a survey of 2,215 U.S. investors with a net worth of $1 million or more.
The results, published in the report, When is enough…enough?  Why the wealthy can't get off the treadmill, revealed that while millionaires recognize their good fortune, they feel compelled to strive for more, spurred on by either own ambition, their desire to protect their families' lifestyle or an ever-present fear of losing it all.  As a result, many feel stuck on a treadmill, without a real sense of how much wealth would make them satisfied enough to get off the treadmill.
The study also revealed that no matter how much wealth is accumulated, millionaires still fear they could lose it all with one wrong move.  Half (50%) of those with $1-5 million are afraid that one major setback (e.g. job loss, market crash) would have a significant impact on their lifestyle, vs. 34% of those with $5+ million.  For millionaire parents working full-time, the anxiety is even greater- 63% feel that one major setback would have a significant impact on their lifestyle. 
Ways to alleviate money stress
As the UBS report shows us, more money is not the answer to living a financially stress-free life.  I don't think that zero money stress is a good thing- we should all probably feel some level of anxiety about our finances and should avoid spending blindly and recklessly.
  But if money stress is getting in the way of your day-to-day quality of life- and your health- it's time to do something about it.  Here are a few ways to take off some of the pressure: 
Plan and be knowledgeable:  No time is too soon to get a firm grip and understanding of your finances.  Planning can begin as early as when you are in your 20's.  It's during these years that you'll want to start reducing your debt, which will contribute greatly to relieving some of the financial burdens that you may feel.  Also remember, knowledge is power.  Learn as much as you can about creating a budget, saving, wise investing, and retirement plans.  If you don't trust in your own abilities to plan properly, seek the advice of a trust financial advisor to assist you.
Be adequately prepared for emergencies:  There's nothing more stressful than when life takes an unexpected turn of events.
  Whether this means a job loss or sickness, it's critical to know that you have the appropriate funds set aside to get you through.  Be sure that you have an adequate amount of money in your emergency fund.  If you don't, make this a top priority.
Become an income investor.  Income investing, which essentially means generating consistent cash flow from your liquid investments, can help alleviate your money stress and grow your net worth.  Remember, investment income comes from three places: dividends from stocks, interest from various types of bonds, and distributions that come from a variety of investments that do not fall exactly into the stock or bond category.           
Keep in mind that there's more to life than money.  Constantly thinking about and worrying about money is not going to make for a very happy life.  Be sure that you find at least three core pursuits, or what I like to call "hobbies on steroids."  These should be interests aside from work, such as sports, adventures, travel, health and fitness and volunteerism.
Find emotional support.  In the above-mentioned survey from the American Psychological Association, it was revealed that Americans who say they have emotional support- specifically, that they have someone they can ask for emotional support if they need it, such as family and friends- report lower stress levels and better-related outcomes than those without emotional support.  So- if you find yourself overly stressed about your financial situation, it's critical to your well-being to seek out support.   
Are you stressed out about money?  Use a few of these tips to start taking off some of the pressure today.  
Follow Wes on Twitter, Facebook and at Wesmoss.com 
For valuable financial tools and information on how to set yourself up for a happy retirement, check these out:
Social Security Optimizer, Retirement Calculator, 401k Allocator, Money & Happiness Quiz, Is It Time For An Economic Shutdown? and the book You Can Retire Sooner Than You Think
Disclosure:  This information is provided to you as a resource for informational purposes only.  It is being presented without consideration of the investment objectives, risk tolerance or financial circumstances of any specific investor and might not be suitable for all investors.  Past performance is not indicative of future results.  Investing involves risk including the possible loss of principal.  This information is not intended to, and should not, form a primary basis for any investment decision that you may make. Always consult your own legal, tax or investment advisor before making any investment/tax/estate/financial planning considerations or decisions.