Supply Chain Lessons From a 10-Year-Old's Birthday Party
Did we achieve customer satisfaction and on-time delivery?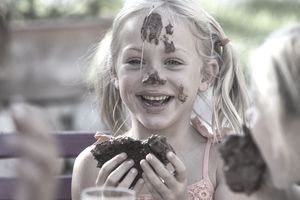 A soccer birthday party in a local park for my 10-year-old daughter. It seemed simple enough. But as the day approached, we realized this would be a supply chain challenge equivalent to any global sourcing and logistics exercise. 
To pull this off, we needed to be experts in:
On-Time Delivery
Cost of Goods Management
Demand Planning
Logistics
Customer Satisfaction
Good thing there's a supply chain expert in the house.
On-Time Delivery
Three weeks before the Day Zero and the customer list (i.e. the guest list) is finalized. Sixteen kids. Sixteen kids and an afternoon in the park. They're going to play soccer. They're going to get hot and thirsty and hungry. Here's what has to be delivered on time, in order to get our customers what they want, when they want it: an activity, a meal, a cake.  
The activity: Soccer. For the soccer portion of the day's activities, we have a couple options.  
Option One: Dad leads the kids in some fun soccer drills. Dad would be me. My daughter's face when I offer this up suggests that we should move on to the other options. No offense, she seems to say — and I appreciate the fact that you drive us places and reach things off high shelves — but I don't need you to herniate a disk in front of my friends.
Option Two: We enroll one of the many coaches that my daughter currently plays with or has played with.
My daughter suggests Coach Daniel. Coach Daniel is not only a coach, but he teaches soccer clinics and plays on a local minor league soccer team. (I might also mention that Coach Daniel is younger than me and that when the 10-year-old girls gaze at him they appear a nanosecond away from swooning. Or as my daughter puts it, "Coach Daniel is swag.")
Our on-time delivery planning means that we secure Coach Daniel's services well in advance to ensure his availability.  
The meal: Pizza is scheduled two weeks in advance.  
The cake: Well, before the cake, there are Oreo's covered in white chocolate and decorated to look like soccer balls, then mounted to a lollipop stick. And then ice cream cake, too.  
My wife organizes the pizza joint to deliver to the park and the dad (i.e. me) will deliver the ice cream cake.  
Cost of Goods Management
None of this is free. And this is a 10-year-old's birthday party, not a wedding. Our budget is commensurate with the spirit of the event. What I mean is, we don't want to spend a lot of money.
Coach Daniel comes with a fee. And the pizza, ice cream cake, paper plates, napkins, balloons, and beverages have costs associated with acquiring them.
Fortunately, while I might be a supply chain expert, my wife is the expert at cost of goods management.  
My wife negotiates net payment terms with Coach Daniel. In some cases, with your own suppliers, you might be able to negotiate a discount if you pay early. It's not uncommon to get a 1 percent discount for paying within days of invoicing or 2 percent discount for similar terms.
With Coach Daniel, by receiving payment at the moment services are rendered, he gives us his "best price."  I.e. we pay him cash.
My wife negotiates a volume price break on the many pizzas we'll need. Baskin Robbins won't budge on the ice cream cake. In supply chain activity, this is what you'll see. For suppliers with competition, they'll be more willing to negotiate pricing (we could have used one of many pizza shops). For suppliers with a proprietary ownership of the product they supply, they typically have the pricing leverage (where else are we going to get a soccer ball-shaped ice cream cake?).  
For the other items, we move to low-cost region sourcing. Plates, balloons, napkins, etc. can all be sourced from warehouse retail locations — such as Smart & Final, Costco, and the 99 Cent Store.
Demand Planning
In a supply chain, demand planning is the propeller that makes the whole shebang go. Demand planning at a 10-year-old's birthday party means forecasting what each kid is going to want to eat and drink.  
Sixteen kids mean 32 slices of pizza, which is four pies. Now add in parents, siblings and the fact my son will be there and he's been known to devour half a pie. Eight pies, it is.  
Next up, those white chocolate, soccer ball designed Oreo's on a stick. Our initial forecast is two per kid. Then that gets upped to 2.5 per kid. And then we realized we had the parents and siblings to consider. And these are homemade. My wife makes 60 of them.
The ice cream cake is a fixed quantity. We have to drive demand to meet the available inventory since there's no way we're buying two of those things. Demand planning for the ice cream cake means figuring out a way to cut about 20 slices.
Logistics
This is where I earn my keep. I load cars. I lift heavy things (until the creaking gets too loud). I set up camp at the park hours before the party.  
We're having the party at a park that doesn't take reservations. I arrive at 8 AM, five and a half hours before the party starts. I tape the 99 Cent Store tablecloths onto the picnic tables. As I prepare to leave, a park employee lets me know it's okay to do that if I stay in the park. If I'm leaving, there's no guarantee another park employee might not come along and throw all my work away.  
I leave a note on the tables saying I'm on my way back. And one hour later, I am. I unload the nonperishables. And wait. At noon, my wife arrives to spell me. She reorganizes everything I've laid out.   
I fetch the kids and then head to Baskin Robbins. The cake is ready. I bring it to the car and load inside the cooler with the ice packs waiting. It has to survive three hours before we're going to serve it.  
At the park, the final preparations. Balloons mark our spot. Water bottles and Body Armor drinks are packed in ice. The pizzas arrive!  
And then Coach Daniel. He sets up a makeshift soccer clinic as the guests arrive.  
I start to relax for the first time in six hours. Logistics takes detailed planning and flawless execution. And that can bring down almost any dad on a weekend.
Customer Satisfaction
The goal of any optimized supply chain is to deliver what your customer wants, when your customer wants it, and, for the financial sake of your company, to do this while spending as little money as possible.
And — for my daughter's tenth birthday party — that's exactly what our supply chain did.  
Coach Daniel ran the kids ragged.
The ice cream cake didn't melt.  
There was enough pizza for everyone to enjoy, even my son.  
The white chocolate covered Oreo's on a stick were a great example of delivering your customers what they wanted, even though they may not have known they wanted it. You may know your customer's demand better than they do. Sometimes you'll have to plan for something you know they'll want, even though they don't realize it.
At the end of the day, we delivered a party on time and managed the costs associated with it. The customers — exhausted, red-faced and dirty — did not want it to end.