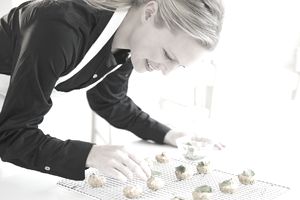 The following is a catering resume example for a college student. The student includes previous work experience related to hospitality and communication.
This resume example includes detailed education information, such as the student's GPA and major and minor. Find out here if, and for how long, you should keep your GPA on your resume.
Summer Caterer Resume Example                                                                      
Leah Squire
Home: 123-555-6446 Cell: 123-555-9653
lsquire@email.com 
125 East Street 
Springfield, IL 62705
Education
Bachelor of Arts, Springfield University, Springfield, IL, May 20XX
Major: English 
Minor: Environmental Studies
Overall GPA 3.6; Honors each semester
Study Abroad: Madrid, Spain - Spring 20XX
Springfield River High School, Springfield, IL, May 20XX

Experience
Dining Hall Assistant, Springfield University, Springfield, IL
Fall 20XX-present
Perform preparatory work for Dining Hall chefs, including preparing fruits and vegetables, cleaning appliances, and organizing kitchen at the beginning and end of each day
Interact with hundreds of customers daily, serving breakfast, lunch, and dinner
Was awarded Employee of the Month twice for focus and attention to detail
Administrative Aide, Wilson Physical Therapy Group, Westway, IL
Summer 20XX
Responsible for interacting with dozens of clients on the phone daily
Managed clients' appointments and doctors' schedules using an online scheduling program
Waiter, Mabel's Bar and Grille, Springfield, IL
Summer 20XX-Summer 20XX
Took orders of up to one hundred customers daily
Responsible for assisting customers on the phone, placing take-out orders and answering general questions
Awarded Employee of the Month four times for positive attitude and attention to detail
Other Experience
Member of Springfield River High School Culinary Club, Fall 20XX-Spring 20XX
Lead alto saxophone player in Springfield River High School Band, Fall 20XX-Spring 20XX
Read More: Sample Resumes | Sample Cover Letters | College Student Job Search Tips | Resume Samples for College Students | Resume Tips for College Students
Please Note: Samples are provided for guidance only. The provided information, including samples and examples, is not guaranteed for accuracy or legality. Letters and other correspondence should be edited to fit your personal situation.