Study of Pose: 1000 Poses by Supermodel Coco Rocha
The Queen of Posing Shows How It's Done with 1000 Unforgettable Poses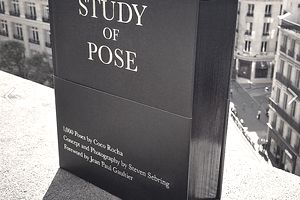 Canadian supermodel Coco Rocha is a busy gal. Not only is the Vancouver native dominating the fashion world, she's also a blogger, activist, TV star, jewelry designer, and tech journalist. And now, Coco has added another line to her already impressive resume: bestselling author.
Her new book, Study of Pose: 1000 Poses by Coco Rocha, is an ambitious collaboration with world-renowned photographer Steven Sebring.
If there was any wonder why Tyra Banks dubbed Coco the "Queen of Posing," this is it.
Study of Pose features Coco doing what she does best: striking a killer pose. Dressed in a simple white leotard, she morphs her body into 1,000 unforgettable poses—bending, jumping, sitting, standing, and everything in between. Coco channels everyone from Michael Jackson and Marilyn Monroe to Madonna and the Mona Lisa, and each stunning black and white photograph showcases the human form at its most basic and beautiful.
Modeling with a Message
Although visually stunning and beautifully packaged, Study of Pose is much more than a coffee table book. As Coco said in the September 2014 issue of L'Officiel Singapore, "There are a few messages. One is to educate younger models and people who think modeling is easy. It's a portfolio of poses and a proof of how complex and nuanced it can be. On the other hand, it is supposed to be funny. A book of a thousand poses – that's a funny thing! The biggest thing that I'm excited about is the fact this is the first book of its kind. This is the dictionary for modeling and I doubt anyone else will attempt this. It's interesting. Either you will laugh at it, or be inspired by it. I hope both!"
What's more, every shot of Coco is available in an interactive, 360-degree view (which can be accessed via the book's digital version). With this unique perspective, the movement seems tangible and the energy of the pose seems truly alive. As Coco said, "It's like seeing a thousand ways the body moves and really is a different way of looking at art."  
This technology is the brainchild of Steven Sebring, who is set on changing the future of fashion photography. Each pose was shot with a revolutionary multi-camera system of his own design—a system he secretly built over the course of 3 years. Known as the Rig, the 10.5-by-15-foot contraption is lined with 100 cameras and is designed to capture the form and movement of the subject standing inside from every imaginable angle. (If you do the math, that's 100,000 photos for 1,000 poses!)
This added dimension is a never-before-seen blend of modeling, art and technology. It goes beyond fashion to explore the body and its incredible range of movement. With just a few swipes, viewers can study the poses from all angles, zoom in, and examine the details from 100 seamless angles.  
Forbes' List of Highest Paid Female Models
The World's First Digital Supermodel
The digital element of Study of Pose is a natural next step for Coco, who describes herself as the first digital supermodel. If it's new, digital and social, you can bet Coco has already mastered it. Time magazine listed her Twitter account among the 140 best Twitter feeds, she was the first model to surpass 1 million followers on Google Plus, and she's reached an additional two million fans on Weibo, China's version of Twitter.
In total, her social media presence has garnered her almost 10 million followers worldwide. Needless to say, Coco Rocha has been ahead of the curve when it comes to all things tech.
https://www.facebook.com/CocoRocha
https://www.instagram.com/cocorocha/
https://plus.google.com/+CocoRocha/posts 
https://www.pinterest.com/cocorocha/