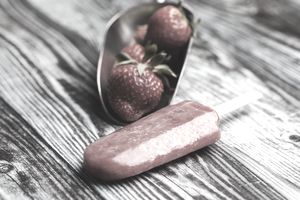 Looking for a cheap alternative to pricey store-bought popsicles? Then, try making this easy strawberry version. You can keep the sugar content low for a healthier spin on a popular year-round treat.
What You'll Need
Only three ingredients are needed—2 cups whole strawberries with the stems removed (frozen strawberries can be substituted), 1 cup milk, and sugar to taste—to make 6 to 8 popsicles.
Preparation
Place the stemmed strawberries, milk, and sugar to taste in a blender, and whiz until smooth. Taste and add sugar as needed. 
Pour the popsicle mixture into a popsicle mold, insert sticks, and freeze. Use paper cups topped with aluminum foil, if you don't have a popsicle mold.
To release the popsicles from their mold, submerge the base of the mold in warm water for a minute or two. The popsicles should slide right out.
Popsicle Variations
This same recipe can be used with other frozen strawberries or other berries or fruits. Make blueberry or blackberry popsicles or try a mixed-berry blend.
If you have access to fresh herbs, experiment with adding fresh mint or lavender to the recipe, or see what happens when you throw a dash of cayenne pepper into the mix. You can even add spinach or another green, like kale, for added nutrition. If it tastes good in a smoothie, it'll taste good in your popsicles.
For creamier popsicles, try replacing some, or all, of the milk with vanilla yogurt. This is a good basic recipe with lots of room to make it your own, so play around until you come up with your own gourmet blend that you can't get anywhere else. Just be sure to take notes on what you did, so you can recreate it if it turns out well.
Cubicles
Pour your strawberry popsicle mix into ice cube trays. Then, add the cubes to iced tea or lemonade.
They'll look really fancy, and as they melt, they'll enhance the flavor of your drink, instead of watering it down. These are fun any day, but especially festive for parties.