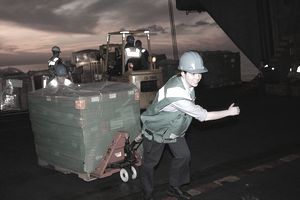 Storekeepers manage inventories of repair parts and general supplies that support ships, squadrons, and shore-based activities. They procure, receive, store and issue material and repair components. They utilize financial accounting and database systems to perform inventory and financial management functions.
The duties performed by SKs include:
ordering, stocking, and issuing repair parts, clothing and general supplies;
maintaining financial records and accounting systems;
maintaining inventory databases for material stocked in shore based warehouses and ship storerooms;
perform duties associated with hazardous material control and management;
organizing and maintaining databases, correspondence files, and reports;
maintaining logistics and financial publications and CD-ROM libraries.
Working Environment
Storekeepers work in offices, shore-based warehouses, air cargo terminals at naval air stations and in storerooms aboard ships. While they work closely with other people, their tasks usually require independent decisions. The diverse working locations associated with this rating provide an excellent opportunity for learning a wide range of inventory database management, financial management, procurement, and warehouse management skills. SKs work aboard all types of ships and shore bases throughout the Navy.
A-School (Job School) Information
Meridian, MS -- 40 calendar days
ASVAB Score Requirement: VE + AR = 103
Security Clearance Requirement: None
Other Requirements
None
Sub-Specialties Available for This Rating: Navy Enlisted Classification Codes for SK
Current Manning Levels for This Rating: CREO Listing
Note: Advancement ( promotion ) opportunity and career progression are directly linked to a rating's manning level (i.e., personnel in undermanned ratings have greater promotion opportunity than those in overmanned ratings).
Sea/Shore Rotation for This Rating
First Sea Tour: 48 months
First Shore Tour: 36 months
Second Sea Tour: 48 months
Second Shore Tour: 36 months
Third Sea Tour: 42 months
Third Shore Tour: 36 months
Fourth Sea Tour: 36 months
Forth Shore Tour: 36 months
Note: Sea tours and shore tours for sailors that have completed four sea tours will be 36 months at sea followed by 36 months ashore until retirement.
Much of the above information courtesy of the Navy Personnel Command