Super Saturday Weekend: Sales Hours Extended the Latest
All Late Store Closing Times, Early Openings in Last Christmas Shopping Days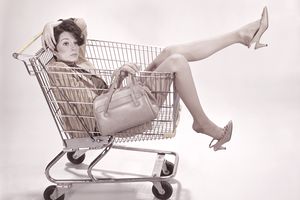 >> ALL 2015 UPDATES: Complete Lists of Extended Holiday Shopping Hours
RELATED:  Best Last-Minute Christmas Shopping Options
Super Saturday Weekend generally marks the point in the U.S. Christmas holiday shopping season when retail store closings get later, and extended store hours are their most extreme.  In 2015, however, time between Super Saturday and Christmas Day is as long as it can possibly be, which means that almost all brick-and-mortar retail stores have late closing times, early openings, and extended hours in the last shopping days before Christmas 2015.  
But it doesn't mean that store doors will remain open 24/7 for the entire space of time between Super Saturday and Christmas Eve.  Surprisingly, last-minute Christmas shoppers are actually expecting, but not finding widespread announcements from the largest U.S. retail chains about shop-till-you-drop, round-the-clock Christmas shopping marathons in the week before Christmas Day 2015.
NEWEST 2015 Christmas Shopping News and Updates:
Toys 'R Us, Macy's Target, Walmart and Kohl's are usually the leaders in extreme extended holiday shopping hours.  But during Super Saturday Weekend 2015, the 2:00 AM Toys 'R Us store closing time seems tame. and the most common 12:00 midnight store closing times at Kohl's Macy's, Target and Walmart seem almost mundane.
According to a consumer survey by the National Retail Federation (NRF), 90% of consumers still planned to do some Christmas shopping in the last week before Christmas.  And it's not just the "last few little things" that consumers will be buying between Super Saturday and Christmas Eve.  On average, Americans had only completed 54% of their Christmas shopping by the time Super Saturday Weekend began.
Based on those numbers, brick and mortar retailers still have one last opportunity to whip Christmas shoppers into a last-minute Christmas shopping frenzy.  The question is whether U.S. retailers will attempt to fuel the last big week of consumer Christmas spending with traditional massive markdowns and extreme extended store hours.  
In the most dirupted Christmas shopping season in the history of U.S. retailing, there are more questions than answers for increasingly desperate shopping procrastinators.
  But it's unlikely that the most opportunistic players in the U.S. retail industry will miss any opportunity to generate revenue and beat out their competitors.  So, it's likely that the week before Christmas will be filled with happy surprises for all, and for all a good night.
What follows is a roundup list of extended hour store closing times for Super Saturday Weekend, including Super Saturday itself, December 19, 2015.  BOOKMARK THIS PAGE for updates as they become official.  As always, it's a good idea to confirm all extended store opening and closing times with local stores because they might vary between individual store locations.  
Friday December 18, 2015: Pre-Super Saturday Store Latest Extended Closing Times:
2:00 AM - Toys 'R Us
12:00 midnight - Academy Sports + Outdoors
12:00 midnight - Babies 'R Us
12:00 midnight - Kohl's
12:00 midnight - Macy's
12:00 Midnight - Old Navy
12:00 midnight - Target
12:00 midnight - Walmart
11:00 PM – Dick's Sporting Goods
10:00 PM closing - Athleta
10:00 PM – BJs Wholesale
10:00 PM - Best Buy
10:00 PM – Barnes & Noble
10:00 PM - Kmart
10:00 PM Sears
9:00 PM – Bass Pro Shops
8:30 PM – Costco
8:30 PM - Sam's Club
Super Saturday Extended Late Store Closing Times, December 19, 2015:
2:00 AM - Toys 'R Us
12:00 midnight – Academy Sports + Outdoors
12:00 midnight - Babies 'R Us
12:00 midnight -Kohl's
12:00 midnight - Macy's
12:00 midnight - Old Navy
12:00 midnight - Target
12:00 midnight - Walmart
11:00 PM – Dick's Sporting Goods
10:00 PM - Barnes & Noble
10:00 PM - BJs Wholesale
10:00 PM - Kmart
10:00 PM Sears
9:00 PM – Bass Pro Shops
7:00 PM – Costco
6:30 PM - Sam's Club
Super Sunday Latest Closing Time Extended Hours on December 20, 2015:
12:00 midnight - Kohl's
12:00 midnight - Target
12:00 midnight - Toys 'R Us
12:00 midnight - Walmart
11:00 PM – Academy Sports + Outdoors
11:00 PM - Babies 'R Us
11:00 PM - Macy's
11:00 PM - Old Navy
10:00 PM – Barnes & Noble
11:00 PM - Dick's Sporting Goods
10:00 PM - Kmart
10:00 PM  - Sears
7:00 PM - Bass Pro Shops
6:00 PM - Sam's Club
Regular Store Hours - Costco