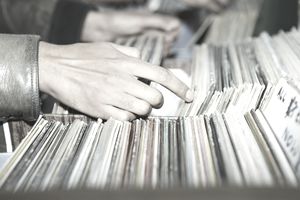 The Basics
What: Indie record label Stones Throw Records
Where: Los Angeles, CA, USA
Founded by: Chris Manak, aka Peanut Butter Wolf
Founded in: 1996
Life as an Artist
Well before Stones Throw was founded, Manak was involved in the music scene, first as a DJ working under the name Peanut Butter Wolf and as a part of a hip-hop group with best friend, Charizma. Through his work with Charizma, Manak was signed to Disney-owned ​major label Hollywood Basics.
The major label life didn't treat the pair well - they found they had little artistic freedom, and Disney's limited knowledge of hip hop made promotion even harder. The two managed to wiggle out of their contract just before Disney decided to get out of the hip hop business completely.
Tragedy Strikes
Shortly after getting out the Disney deal in 1993, Charizma was murdered during a mugging. After losing his best friend, Manak initially got out of music completely. Eventually, however, he started dipping his toes into the water again working as a producer and releasing a solo EP on Southpaw Records. As time moved on, Manak decided that releasing some of the unreleased recordings he had worked on with Charizma was the way to go, and Stones Throw Records was born. The first release, My World Premiere came out in 1996.
Stones Throw Catalogue:
Over the years, Stones Throw has built up a catalogue that includes some of the most critically acclaimed names in hip hop.
In addition to the Peanut Butter Wolf and Charizma releases, other artists on the Stones Throw roster include:
Stones Throw philosophy about the music keeps the quality control high. Instead of chasing chart hits, Manak simply puts out records he likes and believes in.
In addition to the albums on Stones Throw, there are two associated labels under the Stones Throw umbrella:
Business Model
Remembering his experience being signed to a label that offered him little creative control, Manak ensures that Stones Throw works closely with the artists. The musicians on the label are involved in every step of the process, including determining promotional budgets. After the label recoups costs, profits are split 50/50 with the artists.
Manak's experience as a DJ has also led him to remain committed to releasing on vinyl and releasing break beat records. While other labels are turning away from vinyl, Stones Throw is attempting to stage a revival of the 45.
Stones Throw Records Demo Policy
Stones Throw does accept demos. If they want to know more, they will get in touch with you.  The address for sending your music is:

C.P.
Stones Throw Records
2658 Griffith Park Blvd #504
Los Angeles, CA 90039
USA
Need some help getting that demo ready to go? Check out these articles: