Steps for Recycling at Sports Arenas and Stadiums
Leave the trash talking on the field and recycle in the stands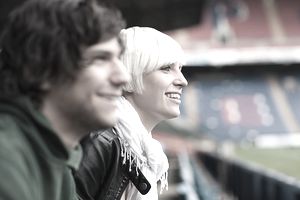 From some of the most famous and inspirational professional organizations in existence through to your local arena, sports have long fueled the passions of fans young and old alike. Sport provides endless examples of the best in terms of human performance and leadership. This is also holding true in the area of ecological stewardship and recycling as well.  Through attention to running more environmentally sound facilities, venue operators have collectively saved millions of dollars, while serving as a role model for shaping the recycling behaviors of sports fans and influencing the recycling programs of other facilities as well.
Here are some basic considerations for getting your program started, or taking it to the next level. The sequence of steps or individual aspects may not be a fit for your particular situation, however hopefully they will provide insight into your challenge and help you in the development of your recycling plan.
1. Engage outside agencies. A dialogue with your local waste authority is a good place to start. Explore how they might be able to assist the effort in areas such as bins, training, and other support, including possibly funding.  .
2. Explore recycling options. Many recycling operators will provide free or low-cost audits of your facility with an eye to maximizing your landfill diversion and recycling revenue opportunities. Make use of EPA's stadium recycling question matrix.
3. Minimize inbound potential waste. One way to reduce waste is to not allow it into the stadium in the form of disposable packaging, food trimmings, and so on.
Utilize reusable packaging where possible - encourage reusable water bottle usage, and reusable transport packaging. As well, efforts should be made to source packaging materials that are readily recyclable in your community.
4. Look for composting opportunities. If composting is available in your jurisdiction, consider using compostable serving items such as paper plates and cups, or plant-based plastic utensils and dishware.
5. Think location, location, location. Bins obviously should be placed in spots where people will be in need of one, such as around concession stands, exists, and so on. Ideally they should be positioned so that there will always be one in view. As well, recycling and compost bins as applicable should be combined with the trash bin to allow fans to easily recycle.
6. Educate staff and fans. The entire staff has a role to play in ensuring the success of your recycling program, ranging from purchasing and operations to security, customer service and food service. Ensure that they understand what the recycling program is about, how important it is, and their role in its success. 
Likewise, fans benefit from targeted communication about recycling, including clear, easily understood signage, posters, social media messages, in-game announcements, or other promotional tacts. 
7. Bring sponsors into the conversation. If you have sponsors, offer them an opportunity to participate in the recycling program to help promote it through their own social media, or to sponsor co-branded signage and bins.
7. Measure your progress. As the old saying goes, you can't manage what you can't measure, so be sure to track how much trash and recyclable materials you are generating, so that you can determine if your efforts are proving to be effective in trash reduction.
Resources