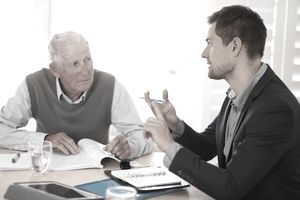 Whew! Tax season is over for another year. You mailed in or e-filed your business and personal tax returns. Or did you? In either case, take some time and review these next steps to find better ways to cope with your business financial life and taxes next year.
1. If You Filed an Extension Application, Get Busy On It
Don't wait until the last minute. Although you have until the middle of October (or the middle of September, for corporate returns), don't wait until the last minute to file that extended return.
Take advantage of this after-tax lull and complete your business and personal tax returns. You will then be able to concentrate on your business instead of having that little niggling feeling in the back of your mind. You will also know for sure what your tax bill is, and if you have to pay more. If you are getting a refund, the sooner you file, the sooner that money will come. 
2. Do a Post Tax Season Analysis
Set an appointment soon with your CPA or tax preparer and discuss what went well and what didn't. Talk about how things could go more smoothly next year. Your CPA wants to help you and to make sure you pay the least taxes legally possible. If you are rushed or don't have all the details, you won't get the best from your preparer. 
While you are talking with your tax professional, be sure to discuss possible purchases of business assets, like cars or machinery, this year. New tax legislation signed in late 2015 has increased depreciation deductions for new and used assets purchased in 2015 and beyond.
How did your tax preparer do? Are you happy with this person or service? Maybe it's time to fire your tax preparer and get a new one. 
3. Find Someone to Do Payroll and Payroll Taxes
Even if you have only a few employees, payroll and payroll taxes are a giant pain. It's late April and I'm still getting readers who want to know about filing 1099-MISC forms with the IRS (they were due ​at the end of February), and others who want to know about Form 941 (it's due at the end of April for the first quarter of last year).
Payroll is actually more difficult for just a few employees because it's the same forms and processes and work for only a couple of individuals. 
Start now looking for a payroll service to take care of all the details and give yourself a break from figuring all this out. Even if you don't have employees, your payroll service can handle the paperwork for hiring independent contractors, paying them, and filing the end-of-year reports. 
4. Find Help with Business Bookkeeping
Let's say you are self-employed and doing your own bookkeeping. Or not doing it well, maybe. The other two options for the essential task of keeping business books are: (1) business accounting software, either online or desktop, or (2) finding a bookkeeper and an accountant to help you with your business books. 
There's a third option, too, which is to have your bookkeeper work with an online accounting program. I suggest you get both a bookkeeper and an accountant. The bookkeeper will do the day-to-day work and the accountant (or CPA) 
Hire a bookkeeper or find a business accounting system that will work for your type of business. A bookkeeper can help you with the day-to-day data entry, supervised by or working with an accountant who can meet with you periodically to analyze your business and tax situation.
Stacy Elmblad, Financial Software Expert, has a list of some top small business accounting software programs for you to choose from. She also has an excellent article that takes you through the process of selecting small business accounting software. 
5. Talk To a Financial Planner
Discuss business tax reduction strategies that you can put in place for next year. You might want to consider something like a SEP-IRA or a profit-sharing plan for employees. Starting now to plan for tax savings in the next year can make a big difference in your business - and personal - tax bill. 
Dana Anspach, Money Over 55 Expert, has an article that discusses the best retirement plan options for self-employed business owners.