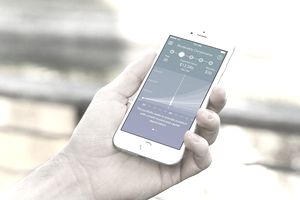 Investing offers more benefits when you have a big portfolio, but that doesn't mean investors with only a few dollars to get started can't participate in the stock market. Thanks to some new services and flexible investment accounts, you can start investing even if you've got only a few bucks to put in the market. In many cases, you don't even need a dollar to open an account.
The Best Apps for Micro-Investing
While some traditional and startup investment accounts require as much as $100,000 to get started, others have no opening balance requirement at all.
These services let you slowly build your investment balance over time through micro-investments.
And these micro-investments can add up fast! If you setup a recurring transfer to invest $20 per month over a year, you'll end up with $240 at the end of the year. And if you're able to spare just a dollar a day, that's $1,000 in three years. It may not be enough to build a nest egg, but if you're young and want to get a jump on the stock market, it's a start. If you have enough income to go out to eat at a restaurant, you have enough income to invest!
Acorns
If you want to get started investing with your spare change, Acorns is the platform for you. There is no minimum balance required to open a new account. When you connect your debit or credit card, Acorns will monitor your purchases and round up to invest your spare change. For example, if you go to the sandwich shop and spend $4.75 on a sub, Acorns will round it up to an even $5 and invest the extra 25 cents into your account.
You can also setup recurring daily, weekly, or monthly investments or make one time contributions.
Acorns charges a $1 monthly fee for accounts with a balance under $5,000 and a 0.25 percent management fee for accounts over $5,000. Your account dollars are automatically invested by Acorns in diverse, low-cost exchange traded funds, or ETFs.
Even if you know nothing about investments, Acorns has you covered and will take care of the hard decisions for you. You can just sit back and watch your account grow with each purchase you make.
Robinhood
If you prefer a more traditional stock investing experience but don't have big dollars to invest, Robinhood is a great choice. While big brokerages charge around $10 per stock trade and discount brokers charge around $5, Robinhood charges $0.
This mobile first, online only brokerage works like an online only bank, but for your stocks instead of your cash. By avoiding physical branches and expensive infrastructure, they can offer stock trades as a 100 percent digital product for free. A paid version, Robinhood Gold, is available for $10 per month with additional features. If you are a legal United States resident with a social security number and a smart phone, you have everything you need to buy and sell stocks, with no fees and no minimum balances to worry about.
Betterment
Robo-advisors are a new type of investment platform where you fill out a brief questionnaire and the investment firm takes care of the rest using advanced investment algorithms. At Betterment, you just tell them your goals and they will invest your dollars into a combination of low-cost funds optimized for you.
The basic account has no minimum balance and no trade fees. Betterment charges a 0.25 percent annual fee on your account balance, exactly the same as Acorns charges on accounts over $5,000. You can contribute via scheduled recurring deposits or one time manual investments through the Betterment website.
CapitalOne Investing
The company behind the popular CapitalOne 360 checking and savings accounts offers an investment platform as well. CapitalOne Investing has no minimum balance to get started and charges a low $6.95 per trade. Formerly known as Sharebuilder, this investing platform gives you access to stocks, mutual funds, options, and some special plans to help build your portfolio.
The PortfolioBuilder lets you create an entire portfolio of ETFs for a flat $18.95 trade fee. If you are starting from zero, the best option is the ShareBuilder Plan, which allows you to invest automatically on a schedule for $3.95 per investment.
Don't Forget Your 401(k)
If you work for a company that offers a 401(k) plan, your investment dollars are automatically deducted from your paycheck. You don't have to invest anything from savings to take advantage. In fact, you can't invest in a 401(k) from savings, as all funds go directly into your 401(k) — and your chosen investments — from a payroll deduction.
In most 401(k) accounts, you choose the percentage of your investments you want to allocate to each investment fund. Every payday, a percentage of your payroll is automatically invested, generally up to 15 percent of your gross paycheck. Check with your company's human resources department to learn more.