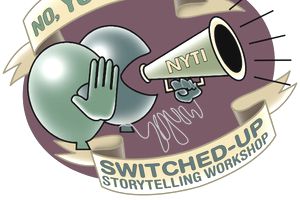 No, YOU Tell It! (NYTI) is a "switched-up" storytelling series dedicated to performing true-life tales with a twist: each NYTI participant develops their own story on the page and then flips scripts with a partner to present each other's story on stage. No, YOU Tell It! blends the collaborative process of creative writing workshops with the intimacy and immediacy of theatrical performance to create a charged evening of personal stories.
Founder Kelly Jean Fitzsimmons, an award-winning writer, teacher, and storyteller, answers our questions!
Rachel Sherman: Where did you get the idea for "No, YOU Tell It!"?
Kelly Jean Fitzsimmons: I started thinking about No, YOU Tell It! almost four years ago when I was a student in Fairleigh Dickinson's low-residency MFA Creative Writing program. Studying creative nonfiction, I was taken by the wide range of personal experience presented by my fellow students in our workshop sessions. Coming from a theatrical background, I was drawn to the idea of what it would be like to not only share in those experiences on the page but to get up and trade stories with a partner. One thing my FDU mentor, Minna Proctor, taught us is that much of the time the story you don't want to tell—the one that will be the hardest and the most painful—is the one that needs to be told the most, the one that will have the strongest impact on an audience.
Many of our No, YOU Tell It! "switched-up" storytellers have said that they were drawn to taking part in the series because they weren't sure if they would have felt comfortable reading their own story in front of an audience, due to the personal nature. But by swapping their stories, No, YOU Tell It!
participants act as a kind of emotional support system for each other. Our specialized format of pairing and partnering gives people the opportunity to step out of their comfort zone, develop the stories that need to be told, and share their experiences in a new way.
How might the practice help a fiction writer?
Hearing their words read aloud by someone else, the writer notices qualities in the story that they may not have been aware of. They also get a chance to connect with their partner's material while strengthening their stage presence, so everyone comes out of the experience stronger. Since we've started, our roster of participants has included playwrights, screenwriters, short fiction writers, songwriters, poets, monologists, and essayists. Our live shows focus primarily on true-life tales, but building on this we also host alumni workshops where No, YOU Tell It! storytellers can continue to develop new material, both nonfiction and fiction, and get to know participants from the other shows. Recently, we had our first ever "Fiction Edition" show featuring No, YOU Tell It! alums. It was a lovely evening of swapped fiction stories about a small town suffering from a bizarre sleeping sickness, a teenager coping with being in prison through memories of her Nana's cooking, beachside betrayal and, of course, killer clowns.
Regardless the genre, the No, YOU Tell It! motto holds true: Nothing Informs Your Story Like Hearing Someone Else Perform Your Story!
Producing the live shows at various venues around NYC, the No, You Tell It! team, made up of myself; Mike Dressel, a writer and award-winning educator; and ​Erika Iverson, an actress and director who is certified in the Alexander Technique, has found that our page to stage process is beneficial to writers, performers, or anyone interested in trying their hand at storytelling. We've adapted our switched-up storytelling structure and now offer a variety of No, YOU Tell It! workshops designed for writers as well as for students, professionals, and community organizations. If you are interested in taking or booking a No, YOU Tell It! workshop, visit our website or contact us at noyoutellit@gmail.com.
What have been some surprising reactions from both the performers and
the audience?
Each storyteller has an individual rehearsal session with a member of the No, YOU Tell It! team to bring some theatricality or "a little oomph" to their partner's story on stage. As a result, the storytellers, even the ones who haven't had any prior performance experience, often say they were surprised by how at ease they were on stage, not intimated at all. In addition to this, the audience members get wrapped up in the moment telling us that "it was more like listening to friends tell stories than it was watching a show, and I got emotional, crying at one of the stories and laughing hysterically at another."
One of my favorite things about No, YOU Tell It! actually started by accident. Our first show was packed (a great problem to have), so we had the switched-up storytellers sit on stage the whole time to make more room in the audience. That night, we found that audience members kept watching the person whose story it was, looking for their reactions and what surprised THEM, as their partner presented their story. So many people said that watching the writer experience their story being performed was their favorite part, that we've had the storytellers sit up on stage during the show ever since.
Part of being an emotional support system for each other means that No, YOU Tell It! storytellers are often far more concerned with doing their partner's story justice than how their own piece is going to turn out. Stand-up comedian and actress Jenn Wehrung told us she was "surprised by how responsible I felt to deliver the piece even better than I thought I could. To do the piece (and the writer) more than justice!" This communal energy invigorates the performance of the stories and moves both the audience and the alumni storytellers to return, time and again, to see our shows. Each installment of No, YOU Tell It! features stories inspired by a different theme, such as "Three Strikes" or "Temper, Temper," and part of the excitement is seeing how four people interpret that idea in unique and personal ways. Because of this, people also come back to see our shows because they don't know exactly what they are going to get. You can listen for yourself on our No, YOU Tell It! podcast, which features switched-up stories and audience reaction from our live shows. 
No, YOU Tell It! workshop at QED in Astoria is open to writers of all levels looking to switch-up their story in 2016. Space is limited.
Kelly Jean Fitzsimmons' work has appeared in the Newtown Literary Journal, Crack the Spine, Liars' League NYC, Serving House Journal, Hypertext Magazine, and HiLobrow. On stage, she was recently a featured performer in FastTrack: A Comedic Storytelling Show and La Pluma y La Tinta's New Voices Reading Series. She is an adjunct writing instructor at Fairleigh Dickinson University and hosts creative writing workshops at The Astoria Bookshop the third Sunday of every month.