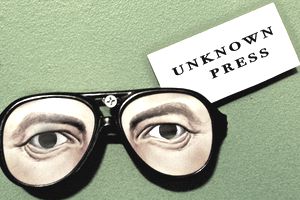 Rachel Sherman: What inspired you to start Unknown Press? 
Bud Smith: I don't consider myself foremost a writer. I love art in general. I've had some novels published, along with a collection of short stories and a book of poetry, but I'm not completely comfortable just doing the writing, just sitting at a desk and pecking away at a keyboard. I like to be involved with as wide an arc of the creative process as I can be, collaborating with others.
In 2013, an idea for an anthology was brought to me by a friend, Pat Noon, who runs a recording studio in Bayville, NJ called 8:16 Recording. Pat Noon mentioned he had been looking for a book of essays about how people lost their virginities but he couldn't find what he wanted at bookstores or online. He mentioned the idea for the virginity book, made up of candid, humorous / off the cuff essays, as something that I could pitch to a publishing house. Instead of pitching the idea to a publishing house, I put out a call for submissions and created Unknown Press, as a vehicle to publish the anthology, which became the book First Time.
Unknown Press was created on a whim, as many things I'm involved in are. I'd been hosting a podcast, interviewing writers, artists, musicians for about a year. The podcast was called The Unknown Show with Bud Smith and was only called that because the people whose umbrella the podcast was being broadcast under kept saying (in the days leading up to the first interview) 'What is the show going to be called?'
I didn't have an answer. That was how Unknown Show was born.
After the First Time anthology, Unknown published its first story collection If I Had Wings These Windmills Would Be Dead, by Chuck Howe. Then a pair of poetry collections by William Seward Bonnie, Studies, and Subtleties. We have also published a collection of short stories by Erin Parker called The Secret and the Sacred, and a novella about NYC in the late 70s by Ron Kolm called Duke & Jill.
Unknown also likes mixed media collections, like Michael Gillan Maxwell's The Part Time Shaman Handbook which is a tongue in cheek guidebook about new age spiritually and wisdom, accompanied by the author's digital art. We have also published a collaborative book called Grace Notes which features prose by Meg Tuite, poetry by David Tomaloff and collage works by Keith Higginbotham.
Unknown Press releases a variety of work, and is interested in continuing to put out anthologies too, such as TOO MUCH (edited by Chuck Howe) which focused on access and the forthcoming In Case We Die (edited by Aaron Dietz), that looks at 'the bizarre, unexplainable experiences that people have had'.
What new insights have you gained as a writer by being a publisher as well?
Working on other people's projects has helped me learn how to design books overall, typeset, content edit, line edit. Also how to use Photoshop and Illustrator for cover design work, which I generally do myself, or on some projects with the help of Erin McParland, and Rae Butler. Being a publisher has made me better at communicating in general with artists and writers, and better at setting up events in and around NYC. Being a publisher has opened my eyes to my own work and the directions it can take.
Before I was actively involved in the process of making books, I felt a little lost. I would write a novel or a series of stories and not have a complete understanding of how to make the project come to completion as a physical thing that other people could touch in their hands and actually read. Now I understand how a DIY book is made, and apart from Unknown Press, I often make mockups of my own unreleased novels pass along to early readers, so I can then submit the work to presses I am interested in working with.
Tell us about the newest Unknown Press release. What was the inspiration behind it?
Unknown Press' newest release is RIFT by Kathy Fish and Robert Vaughan. It's a split book, with alternating pieces of flash fiction between the two authors. It is a dense book, full of thrilling flash fiction.
Here's what some people have said:
"Rift made me laugh my face off, cry my guts out, and remember why writing matters:  stories save us from our idiotic but lovable selves."
- *Lidia Yuknavitch*, author of *The Small Backs of Children*
"These stories made me not sit still. They turned me around and turned me around."
–*xTx*,  author of *Today I am a Book* (CCM, 2015)
"The stories in RIFT are peculiar and exciting and riveting and mournful and veer into places I hadn't noticed in my peripheral vision. You know, like life." 
-*Daniel Handler*, author of *We Are Pirates* (Bloomsbury, 2015)
"Each vivid piece in Rift, this sharp collection, clutches the reader suddenly — needing to offer its secret with the urgent elegance of the very best short short fiction." 
– *Ron Carlson*, author of *Five Skies* (Penguin, 2007)