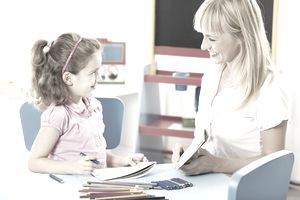 Are you applying for speech pathologist jobs? Here's an example of a cover letter for a speech pathologist you can use to get inspiration for your own cover letters. Also review a resume for a speech pathologist which includes education, experience, licenses, and certifications.
When writing your job application materials, be sure to include the top skills employers seek when hiring for speech pathology positions.
Take the time to match your qualifications to those listed in the job posting. The closer of a match you are for the job, the better your chances of getting selected to interview.
Speech Pathologist Cover Letter Sample
Contact Name
Title
Organization
Address
City, State, Zip Code
Date
Dear Mr./Ms. Firstname Lastname,
I would like to express my strong interest in the CFY position as a speech-language pathologist at ABC Charter Elementary School, as listed on the Speech Pathologist Association website. This spring I will receive my master's degree in speech pathology and audiology from XYZ University. During my undergraduate and graduate studies, I have had multiple opportunities to work with elementary-age children with a variety of communication disorders, particularly with autism spectrum disorders. I believe my experience and skill would make me an excellent speech-language pathologist for your school, due to your specialization in ASD students.
I have extensive experience working with children with ASD. As an intern at Maywood Elementary School, I developed and led weekly sessions with students with ASD. I also had a clinical rotation at the Maywood Speech Center, where I ran group therapy sessions for elementary-school children with autism spectrum disorders.
Because the speech pathologist at ABC Charter Elementary School must conduct individual and group therapy sessions, my clinical rotations have prepared me well for this position.
Your job listing states that the speech pathologist will also need to work closely with administrators, teachers, and parents. I strongly believe that communication between school staff and parents is key to developing student skills. At the Maywood Center, I developed and led weekly workshops for parents, caregivers, and teachers about speech-language disorders and strategies for skill development. These workshops gave me valuable experience on how to best communicate with those involved in my students' lives, and I would love to use those skills at ABC Charter School.
I am confident that my practical experience working with ASD students and communicating with school staff and parents would make me an asset to ABC Charter Elementary School. I have enclosed my resume and will contact you next week to see if we might find a time to speak together. Thank you so much for your time and consideration.
Sincerely,
Your Signature (hard copy letter)
Your Typed Name
Your Address
Your City, State, Zip Code
Your Phone Number
Your Email
Speech Pathologist Resume Example
Jane Applicant
123 Main Street, Chicago, IL 60290
(555) 555-5555
firstname.lastname@email.com
Education
Master of Science, Speech Pathology, XYZ University, May 20XX
Bachelor of Arts, English Major, ABC College
Licensure
ASHA Certification in Speech-Language Pathology
Illinois License in Speech-Language Pathology
Clinical Experience
Speech Pathologist, Suburban Sounds Center, Chicago, IL                              July 20XX - Present
Develop and implement individualized and group therapy for pre-school, elementary, and middle-school children with language delays, articulation disorders, and autism-spectrum disorders
Work and communicate regularly with parents, teachers, and service providers to provide a network of strategy and support
Develop and lead workshops designed to educate participants (parents, caregivers, teachers) about speech-language disorders, impact on academics and social behavior, and strategies for skill development
Intern, XYZ Clinic for Speech, Language and Hearing Services, Oak Park, IL                Spring 20XX
Assessed and treated patients with impairments in speech, language, cognition and dysphagia
Conducted and analyzed modified barium-swallow studies
Facilitated group workshops for parents and caregivers on a variety of topics including social interaction and academic performance
Intern, ABC Elementary School, Maywood, IL                                                                  Fall 20XX
Developed and led sessions with language-impaired and learning-disabled children, working primarily with children with articulation/phonological disorders and fluency disorders
Participated in staff meetings with parents, teachers, administrators, and co-workers to assess progress of students
Observed and assisted students in general and severely handicapped classes
Professional Organizations
Member, National Student Speech and Hearing Association
Volunteer Work/Community Service
Tutor, ChicagoReads! Program, Chicago, IL                                                   Spring 20XX - Present
Volunteered over 100 hours as a literacy tutor for adult English language learners
Completed comprehensive training including 6 hours of workshops on learning disabilities
Skills and Certifications
CPR/AED and First Aid Certification
Sign Language (intermediate)
Spanish (conversational)
Include your contact information in your email signature, and don't list the employer contact information. Start your email message with the salutation. Here's an example of a formatted email cover letter.
More Sample Cover Letters: Cover letter samples and templates for a variety of career fields and employment levels, including entry-level, targeted and email cover letters for many different jobs.