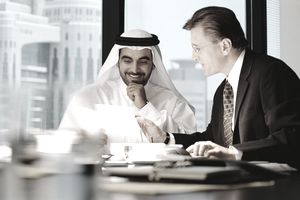 A sovereign wealth fund is an investment pool of foreign currency reserves owned by a government. The largest investment pools are owned by countries that have a trade surplus. These are the oil-exporting countries and China. They take in foreign currencies, primarily U.S. dollars, in exchange for their exports. The funds are then invested to produce the highest return possible.
Similar funds held by nations' central banks are not sovereign wealth funds because they have different goals.
A central bank holds funds to manage the value of its currency, to stimulate the economy, or prevent inflation. A sovereign wealth fund just wants to earn a high return.
Here are some other funds that may be confused with sovereign wealth funds:
Funds held by state-owned companies.
Government employee pension funds.
Private wealth funds. 
How They Affect the U.S. Economy
The amount of money held by sovereign wealth funds has more than doubled since September 2007, from $3.265 trillion to $7.4 trillion in 2016. Their asset holdings are now double that of all hedge funds combined.
These funds are big enough to affect overall markets. For example, they took large stakes in Citigroup, Morgan Stanley, and Merrill Lynch during the financial crisis. They created an asset bubble in London and New York real estate. They influence more and more as they become more sophisticated investors. (Source: Craig Mellow, "Sovereign Wealth Funds Still Pack a Wallop," Barrons, March 9, 2015)
High oil prices spurred growth of large wealth funds between 2007 and 2014. During that time, nearly 60 percent of their assets were from oil and gas revenues. The 2008 financial crisis barely slowed their growth, which hit $4 trillion in December 2009, and $5 trillion in March 2012.  
Sovereign Wealth Fund Ranking
Norway's Government Pension Fund is the largest, holding $954 billion as of December 2016.
 Its profits are from the state-owned North Sea oil drilling operation. A drop in oil prices and in the Norwegian currency, the krone, cost the fund $17 billion in March 2015. 
Middle Eastern Funds
Middle Eastern funds rely heavily on oil exports. These funds make up about a third of the total wealth in sovereign funds.  According to a McKinsey estimate, Middle Eastern countries will have $9 trillion to invest by 2020.                   
| Top 10 Middle Eastern Funds (in billions) | Country |  2016 | 2015  | 2014 |
| --- | --- | --- | --- | --- |
| Abu Dhabi Investment Authority | UAE |  $828 | $773 | $773 |
| Kuwait Investment Authority | Kuwait |  $524 | $592 | $548 |
| SAMA | Saudi Arabia |  $514 | $686 | $757 |
| Qatar Investment Authority | Qatar |  $320 | $256 | $256 |
| Investment Corp. of Dubai | UAE |  $210 | $183 |   $70 |
| Public Investment Corp. | Saudi Arabia |  $183 |  N.A. |  N.A. |
| Mubadala Development Co. | UAE |  $125 |   $66 |   $61 |
| Abu Dhabi Investment Council | UAE |  $110 | $110 |   $90 |
| National Development Fund | Iran |   $91 |   $66 |   $66 |
| Investment Authority | Libya |   $66 |   $66 |   $66 |
China Funds
Countries that export lots of goods also collect large holdings of foreign currency that needs to be invested. The best example of this is China, which has five wealth funds. Combined, these funds invest $2 trillion of the $3 trillion the country has accumulated.
The rest is managed by China's Central Bank to manage its currency, and invested by the state-run corporations and banks. Each fund has separate goals. 
China-Africa Development Fund: $5 billion. It invests in stocks and bonds in Africa. 
Singapore Funds
The city/state of Singapore has two wealth funds, holding $556 billion in total. The funds come from the high savings and investment rates of the people and businesses in this world-class financial center.
The largest is the Government of Singapore Investment Corporation, now the GIC Private Limited fund. It holds $359 billion, ($344 billion in 2015, $320 billion in 2014). It's owned and funded by the government, and is itself subdivided into three smaller enterprises:
GIC Asset Management, which invests in equities, bonds, foreign exchange and alternative investmetns.
GIC Real Estate, which has more than 200 properties in 30 countries, as well as REITs.
GIC Special Investments Private Limited, one of the world's largest private equity firms, invests in leveraged buyouts, venture capital, and infrastructure. 
Singapore's other wealth fund is Temasek. It invests $197 billion ($193.6 billion in 2015, $177 billion in 2014) through 35 subsidiaries. It focuses on investments in Asia and energy-related investments. It purchases stocks instead of direct investments. Temasek opened a New York-based office in 2013. Analysts expected that Temasek would change its strategy from owning small stakes in blue-chip publicly-listed companies to major direct investments. (Source: "Sovereign Wealth Fund Ranking," Sovereign Wealth Fund Institute.)