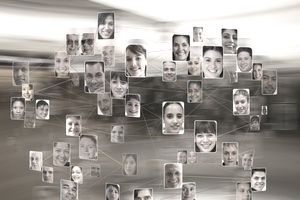 Gone are the days of putting out the news and wondering what people thought about it. Today's news media professionals are reaching out to their audience using social networking sites to expose their own viewpoints, seek input from readers and tell stories in a personal way. With the entire industry is in transition, many journalists are finding these tools can be the keys to survival (if they are used strategically).
Before you dive into the social media scene, know the top social networking tips specifically for news media professionals.
Set Social Networking Goals
Teenagers make Facebook, Twitter and other forms of social networking look easy. As a journalist, manage these resources just as you would traditional media.
Make a list of how you want social networking to help you -- like creating personal contacts on Facebook or posting bursts of information on Twitter. Whether you just want to create unique content, get story ideas or build your personal brand, the time you spend on social networking will be better spent if you know what you want to accomplish. Remember the age-old warning of journalism -- never allow your readers to say "So what?"
Find Your Personal Voice
Novelists have to find their voice before typing the first line of the next best-seller. You also need to figure out how you will talk to your readers so they know what to expect from your social networking content.
Some may give background information on a news story that didn't fit into their main article. Others may have humorous anecdotes about the news of the day. A few may offer editorial opinions. Finding your voice to tell a personal story of surviving a hurricane or seeing a mother reunited with her missing child will touch your readers in a way that a traditional, less personal news story cannot.
Keep Your Social Networking Professional
Social networking can land any employee in the unemployment line for violating company policy, and that's even more true for news media professionals. You wouldn't want to reveal your choice of candidates in a political race or you could risk not only your current job, but also the career that's taken you years to build (because someone may accuse you of bias).
Using discretion when posting applies to both your professional and personal social networking. Because many companies don't have written social networking policies, speak with your supervisor or editor to make sure you know what isn't allowed.
Make Your Information Timely and Useful
The news is supposed to be current, yet you don't have to search long to find those in the media whose social networking outlets haven't been updated in months. Commit to keeping your information fresh without ever having to write, "Sorry I haven't posted in six months. I've been busy." The flip side -- avoid over-posting just to say you update your status once an hour. We've all seen people blather on and on through social networking sites.
It can be tempting because, unlike newspapers, magazines, radio or TV, space is free and unlimited.
However, social networking is a fast-paced environment. Make your point quickly and know when to stop writing.
Respond to Readers' Comments
One of the most valuable aspects of social networking is interacting with your readers. It would be great if every one of them would offer you glowing praise for your insight.
You need a web policy for those readers who take you to the woodshed over a story you wrote or comment you made. Sometimes it's easy to delete anything negative. Your readers will quickly grow suspicious if all comments they see from other readers sound like they came from your grandmother.
It's good to develop thick skin and allow criticism to remain for people to read, as long as it doesn't include personal attacks or offensive language. No matter how long you've been in the media, you'll quickly find that social networking can be a gold mine -- or a land mine -- depending on how well you prepare for it.