7 Social Media Tools To Consider Next Time You Plan An Event
How To Run A Successful Event Using Social Media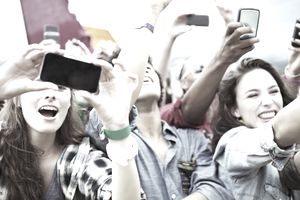 There's a lot of noise being made about the benefits of using social media tools in the event planning industry. That said, not everyone is au fait with how to use social media and other online resources effectively.
If you're struggling to know which social media tools to consider next time you plan an event, here are seven  platiforms to consider. But remember, as with all things in life there are experts who live and breathe this stuff.
If you're unsure how to maximize the benefits of social media, it's wise to get some outside help based on the event planning tips you'll find here.
Without further ado, 7 social media tools to consider next time you plan an event, starting in the obvious place with Facebook.
Facebook
With 1.4 billion active users (at the time of writing) Facebook should definitely be top of your social media list. The starting point with Facebook when considering how to run a successful event should always be to create a Facebook event page. This page will form the hub of your event.
Here are some event planning tips you can use in your Facebook strategy:
Share blog posts and updates about your event
Share pictures from previous events
Be sure to show potential attendees exactly "what's in it for them"
Promote (by tagging) speakers, partners and colleagues
Post video teasers for your event on the event page
Run Facebook ads in parallel to your Facebook event page promotion.
Tip: Did you know you can effectively engage your audience with Facebook questions (polls)?
Twitter
With 288 million active users Twitter is likely to be your next port of call after Facebook.
Tip: Bear in mind that over 80% of Twitter's traffic is on mobile.
Here are some ideas of how to use Twitter for your event planning business.
Create a dedicated hashtag for your event
Use a conversion tracker to monitor conversions (Hootsuite is a good option for this)
Be prepared to (quickly) answer any questions that may arise
Re-tweet (and have your followers re-tweet) any tweets relevant to your event
As with Facebook, promote speakers, partners and colleagues
Tweet "what's new" and be sure to share photos and videos.
LinkedIn
With 332 million members, LinkedIn is a great social media tool to use for professional networking and industry specific groups.  
Run LinkedIn targeted ads
Register the event and be sure to check out attendees profiles on the platform
Add selected, relevant professionals to your network
Create a LinkedIn group specifically for the event but be sure to "steer" the discussion.
Tip: Remember, use groups directory to find and join specific groups that are relevant to the event planning industry and special events, or to target your perfect clients. 
What about other, more visual social media platforms to consider next time you plan an event?  
Youtube, FlickR, Slideshare & Snapchat
The benefits of video marketing include: building trust and more credibility, video is more persuasive, and using videos for your special event are great for SEO and search engines love them; which allows your special event to be found more easily.
In fact, Foresster research discoered that the use of video on a web page makes it 53x more likely to be ranked on the first page of Google! 
Here are the basic tips for all four platforms:
Upload all videos, photos and presentations as appropriate
Embed them on your blog so they can be viewed there also
Record video testimonials for your products or services and make them available to your audience.
Youtube - of all of these visual social media toolsYoutube can be particularly effective. At the time of writing, Youtube is owned by Google and it stands to reason that a video on their own platform will naturally trump a video placed elsewhere.
In other words, a video placed on Youtube and linked back to your special event blog or website performs well in a Google search for your event.
FlickR – a social media network designed for sharing and organizing photos.
FlickR gives you the ability to "tag" your photos (or collections of photos) so anyone searching for a photo relevant to your event will be able to find it.
Slideshare – a platform where you can upload presentation files to be viewed privately or publically. Ideal for sharing your event's PowerPoint presentations for example.
Snapchat – a viral smartphone application that allows you to take a photo, add text and send it as a message to multiple contacts. You can set the duration that the photo will be seen, making the platform ideal for instant updates prior to or during your special event.
Tip: For maximum exposure, directly upload your event video to your Facebook page and event page using Facebook's video downloader.
Even if you decide to hire a social media expert to promote your special event, it's a good idea to have working knowledge of how to use social media next time you plan an event.