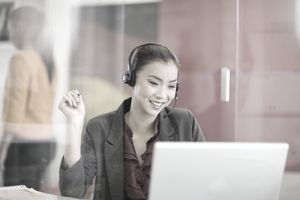 Social media can be a powerful sales tool, but it has to be used correctly. Trying to use social media to sell is usually a mistake — social media is best reserved for connecting with customers and prospects. Another common mistake is getting so wrapped up in social media that you spend hours on it every day. Most salespeople find that 15-30 minutes per day is plenty; more than that and you'll struggle to find time for cold calling and other sales-generating activities.
Two of the most popular and useful social media platforms for salespeople are Twitter and Linkedin.
More than any other social media platform, the biggest danger in using Twitter is spending all your time in nonproductive activities. But once you've grasped which activities are likely to help you build sales, Twitter can be an incredibly productive tool. And when you're just starting out with Twitter, your first major task is building a list of followers.
Where to Start
First, you must choose the right photograph for your profile. Obviously, it needs to be professional-looking — this definitely isn't the place for the photo of yourself from that drinking contest. Ideally, your photo should also give the impression that you're approachable. Choose one in which you are wearing a business casual outfit unless you're in an extremely formal industry such as banking. Headshots are generally better than full body photos.
And of course, smile and look friendly. Ladies, avoid excessive jewelry and overdone makeup.
The easiest way to get started collecting followers is by picking the right people to follow yourself. There are several tools that you can use to find good accounts to follow; the Who's to Follow directory is probably the easiest to use and the most helpful.
Once you've found a few accounts that you'd like to follow, browse through their recent tweets to find something that you can respond to right away. The more you interact with the people you're following, the more likely they are to follow you back. Use this process every time you start following a new account.
Of course, if you want to collect followers, you have to give them a reason to follow you. Tweeting random comments won't help you with that. At least 90 percent of your tweets should offer something of value to your followers. And while up to half of your tweets can be retweets, the other half should be original tweets. That ratio means that you're including plenty of useful tweets that your followers can't get anywhere else.
Once you've acquired a few followers, you can use them to get more followers by encouraging them to retweet you. Once again, the basic requirement for getting retweets is posting valuable, original information. You can encourage your followers to retweet you by including the words "please RT" at the beginning of the tweet.
Note that a tweet doesn't have to be a comment — it can also be a link to an article, a video, or even a photo. If it's something that your followers would appreciate, it counts for purposes of adding value.
However, do share your own thoughts on a regular basis. Tweeting in your own voice gives your followers a chance to get to know you as a person. Whatever you choose to post, leave at least 10 characters available so that others can easily retweet you.
It's important to tweet on a regular basis. That doesn't mean posting 20 tweets in one day and then not logging on for two weeks. Ideally, you want to post a tweet at least once a day so that your followers know they can count on you to constantly offer value. On the other hand, don't go overboard with your tweets. Jeffrey Gitomer recommends that salespeople post no more than one tweet for every 10 followers. More often than that, and you'll start to look like a spammer.
Another way to get more followers is to participate in Twitter activities such as tweet chats and Follow Friday.
Tweet chats are conversations focused on a single subject, while Follow Friday refers to the Twitter tradition of recommending people you follow to your followers every Friday.
Don't forget that you can reach out to potential followers outside of Twitter itself. Share your Twitter username in your email signature line, on your blog if you have one, in your profile on other social media platforms, on your business card, and anywhere else you can think of. Trade shows and networking events are great places to pick up new Twitter followers as well as to find new people to follow yourself.
Once you've got your Twitter account under control, it's time to think about setting up one for Linkedin. The first and most important step is creating a strong profile page. Having the right profile page is a key to developing a strong LinkedIn strategy. Your LinkedIn profile is the face that represents you to other LinkedIn users, so you want to put your best face forward to establish connections and build a strong network. The first step is choosing the right profile photo; follow the same guidelines as for your Twitter snapshot.
If your primary use for your LinkedIn profile is sales related, there's no need to post tons of employment history. Having a full employment history is more useful when you're job hunting, but it's simply distracting when you are networking or connecting with prospects. Similarly, limit your skills listed to ones that relate to your sales position. You should definitely list any skills that you have that are particularly relevant to your customers' industries. For example, if you're in medical sales, list any medical-related skills you might possess.
Your profile headline can go beyond your job title. Try to include keywords that your prospects or potential network contacts would be searching for. This is particularly important if your official job title is vague or misleading. However, don't just stuff your headline with keywords — your primary audience is humans, not search bots. You're better off with a professional sounding headline with a couple of keywords than one that stuffed with keywords but sounds like it's been written by a committee.
The profile summary is your chance to reveal a little bit of your personality to visitors. This is your first opportunity to present yourself as a human being and not a collection of facts. The summary is a great place to talk about your goals, things that you've achieved that you're particularly proud of, your hobbies, your family, and anything else you're passionate about. The goal here is to reveal a bit about yourself in a way that makes people want to get to know more about you. If you have a blog, include a link at the end of your profile.
You can choose to have LinkedIn groups appear on your profile, or not, on an individual basis. Only display groups that will reflect the image you're trying to create. Keep the list fairly short, as you don't want to clutter up your profile.
Recommendations can provide a powerful boost to your profile. They are your way of showing that what you've claimed in your summary and elsewhere is validated by other people. When you're new to LinkedIn, you can start out by asking other salespeople on your team who already have LinkedIn profiles to recommend you. You may also have luck getting recommendations by offering to recommend another first.
When you've finished filling out your profile, check it over, line by line, to make sure everything looks the way you want it to. Spell check is your friend here — having obvious spelling errors in your profile is a huge turnoff. Check any links you included to be sure they work as you intended. When you're sure everything is perfect, go ahead and post it live. Just remember that your profile should be a work in progress. You'll want to update it regularly with any new achievements, keep checking links to be sure they're still alive, and periodically reread what you've written to be sure it's conveying the message that you want to convey.
Once your profile is squared away, it's time to start making connections. LinkedIn gives you the option to either show or hide your connections from other visitors viewing your account. You should always elect to show your connections. Having an impressive list of existing contacts will make it easier to entice new ones, and will also lend credence to your status as a mover and shaker in your industry. If your list of connections grows to the point of being unwieldy, you may want to employ LinkedIn's filtering option to shorten the list.
Focus on making the right kinds of connections. Don't be in a rush to add new contacts; quality is more important than quantity. You're better off with a few highly relevant and helpful contacts than with a jumbled list of random connections. Focus on people who can both help you and who you can help in return. High-level executives should be a priority for making connections. Not only are such people impressive-looking on your profile, but connecting with them gives you access to their networks — which will usually be stocked full of highly useful people for you to know. And the more VPs and chief officers you already have in your connections, the easier it will be to get other high-level execs to respond to your invitations.
You should be cautious and professional when giving and accepting invitations on LinkedIn. If you jump to issue an invitation to someone you don't know, they're not likely to accept — and the more valuable the contact, the more hesitant he'll be. Treat each new contact as you'd treat a prospect. You need to first demonstrate why they want to buy what you're selling (a spot in your network) and only then can you ask for the sale. When accepting invitations, remember that future contacts will judge you by your existing list of connections. You're safer turning down any dubious contacts and keeping your list focused on high-level connections.
Finally, don't put all your energy into acquiring connections and then ignore them. Your network is there for a purpose. If you neglect those contacts, you'll be missing out on future opportunities like referrals and assistance with reaching a reclusive decision maker. At the very least, reach out to your contacts occasionally to remind them of your existence. For example, you might send an e-card to each of your connections on his or her birthday.