7 Ways Social Media and Email Marketing Can Work Together
Enhance and Maximize Your Social Media and Email Marketing Results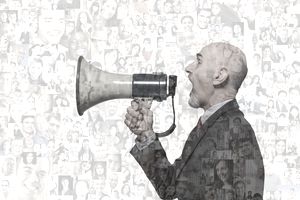 Much in the same way that content marketing can enhance and benefit from SEO, or guest posting can increase and benefit from social media traffic, social media and email marketing have a mutually conducive relationship. While some think email marketing is passé with the growth and popularity of social media, when you consider that email marketing offers a potential  4,300 percent return on investment (ROI), it's a marketing tactic you don't want to avoid.
Obviously, email marketing and social media marketing each have their advantages and disadvantages, which can be enhanced and offset by using them together.
Seven Social Media/Email Marketing Strategies
Tell your followers about your email list. This first tactic might be the most obvious, yet many fail to do it. Its brilliance rests with its simplicity. On social media (assuming you have a decent reach already), ask your followers to sign up for your email newsletter. A call-to-action like "get exclusive deals by signing up for our email newsletter," can net you a few dozen followers instantly, even with a modest following. The trick is to emphasize the benefits of signing up. The value these benefits offer, the better. For example, promoted your free offer or what subscribers can get (faster, better, etc) from your newsletter.
Share your content that includes email sign up on social media. Blogs are another powerful gateway to getting email signups, especially if your email newsletter features some of your best work (or even better, exclusive posts). Social media is one of the best distribution channels for your content. Attract new users to your site with compelling, unique content. Once there, have email sign up form along with a freebie or benefit for joining your list prominently displayed on your site.
Tease followers with exclusive email offers. One of the best ways to use an email marketing campaign is to offer exclusive values to subscribers, such as email-only content, discounts, or free giveaways. In the weeks or days leading up to one of these reveals, tease your social media followers. For example, if you're planning on offering a 30-percent-off-everything coupon to your email subscribers, you could post "we've got a big surprise in store for our loyal email subscribers—get in before it's too late," or "Will you save big on X product or service? Email subscribers will!"
Landing Page Promotion. If your email list is such a significant part of your business that you give it its own page, you can promote the landing page through incentives, straightforward promotion, or a special offer.
Contests and Drawings. Incentives are always valuable for attracting attention and engagement, and when you have two strong online marketing mediums at your disposal, those incentives become even more powerful. Use social media to promote a contest or giveaway to a random user, a reward for the best piece of user-submitted content, or anything else appropriate for your brand. The key is to offer something valuable, and make it known across social media. As a prerequisite for participating, ask for your users' email addresses to build your list or create a new one.
Include Social Icons in Emails. Cross-promotion of social media and email is a two-way street. You can promote your list on social media, and so can you promote social media to your list. Like all forms of marketing, people need a reason to pay attention to you, so let them know what benefits come from following you on social media, such as updates, coupon codes and other perks.
Connect with your subscribers on social media. Did you know you find your email list subscribers on social media? Twitter, LinkedIn, Facebook, and other platforms have tools that map email addresses to known profiles of corresponding users. From there, you can follow your subscribers and use the data to learn more about them, their interests, needs, and behaviors, through through social listening. You can even find out what they're saying about you.
Online marketing can be overwhelming, especially when each option is used independently. Instead, maximize your time and reach by integrating marketing strategies together. Email and social media have naturally shared lines of communication, and serve as a great starting point for strategies like SEO and content marketing.