Social eCommerce
Your Prospects Spend Lots of Time on Social Platforms. Don't Ignore Them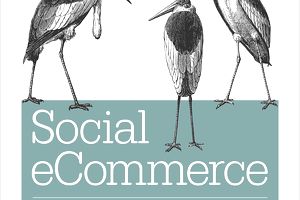 I have been reviewing several social media books that seem relevant for ecommerce business owners. Why social media books, you ask? That's because social ecommerce provides the ray of hope that ecommerce can still market itself cost efficiently.
Content
Like several of the more recent O'Reilly books, I find that this one too is pretty well organized. It starts out by laying a framework for the three tiers of social networks.
It goes on to explain how you could use social media for a wide variety of objectives, right from physical retail, to digital downloads, from restaurants to book promotion, and a whole lot more. That takes you to the middle of the book.

From this point on, the book explores some of the non-marketing related applications of social media, such as reputation management, damage control, and influencer outreach. It even covers the highly interesting topic of social search engine optimization. If your prospects keep spending so much time on social platforms, then optimizing your presence for social search engines could be a game changer.

Authors
Stephan Spencer, Jimmy Harding, and Jennifer Sheahan are the authors of the book. Very simply put, all three authors have a strong track record in online business. Stephan has consulted in the area of SEO, content marketing, and digital marketing for marquee clients.
Jimmy has technology consulting experience. Jennifer is an expert in online advertising.
Pros
The book is well organized and covers the major aspects of social ecommerce.
It presents reasonable suggestions on marketing to attain specific business objectives.
Cons
At some points, I feel that the differences in the writing style of the three authors become visible, and that causes some obstruction in smooth editorial flow. I wish they had avoided that.
 
Though the coverage of the topics is far from being at the beginner's level, the fact is that this is more of a macro view of the topics being covered.
Details of the Paperback Edition
Pages: 310
Publisher: O'Reilly Media
ISBN-10: 1449366368
ISBN-13: 978-1449366360
Conclusion
While this book would make for a great first book on social ecommerce, it would also work out pretty decently for people who already know a lot about the topic. If you are a small ecommerce business, you cannot afford to ignore a potent tool such as social media marketing. If you think that you have not done justice to the topic so far, then now is a great time to pick this book and read it from cover to cover.

I would go so far as to suggest that even if there are some topics that may not seem directly applicable to you, go ahead and read them all the same. For instance, if you don't yet think that you need to read about guerilla marketing, you could be in for a surprise when you actually read about it. Unless you can afford a full service social media agency, make sure that you read this book.

Some More Books That Ecommerce Professionals Will Enjoy Reading
Ultimate Guide to Google AdWords by Perry Marshall and Bryan Todd