6 Steps to Making Your Nonprofit a Media Star
How to Get the Press to Tell Your Story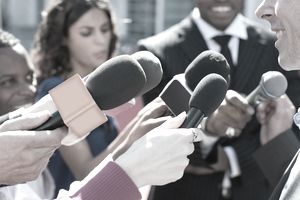 Carolyn Manning, founder of The Welcome to America Project, had no idea that her sister-in-law had nominated her for a CNN Heroes Award. Then CNN called and put her and her nonprofit in the media spotlight  and on the national map.
Manning agreed that becoming a CNN Hero was a little like being picked for "American Idol," but she says, "What is important to me is the stamp of legitimacy that CNN Heroes provided our small organization and the refugee movement here."
The national exposure for this small organization, located in Phoenix, AZ, did not result in a flood of money, Manning pointed out, but it has brought in supporters who would not have otherwise known or cared about the nonprofit or the people it serves, as well as giving its activities priceless credibility.
The CNN Heroes program is a testament to the media's interest in stories about nonprofit causes and people helping each other out.
All of these "feel good" stories have been amazingly effective in drawing readers and viewers (not to mention sponsors and advertisers). CNN Heroes has become a hugely successful celebration of public-spirited individuals. The top CNN Hero (chosen American Idol style through public voting) is honored each November with a star-powered prime-time special.
Almost all media now feature feel good stories about people and organizations that do good.  Even so, getting attention from the shrinking, but highly diversified, press pool still takes persistence and creativity.
Here are six tips for getting your share of the media spotlight:
Don't Wait for CNN to Call

That's like waiting for lightning to strike to power your lights. Make friends with your local media: TV (don't forget programs on local PBS stations), newspapers (both daily and weekly), and radio (a local station, affiliated with a national outlet can be a conduit to a national story). Check out the business press in your hometown, the local college's newspaper and alumni magazine, localized online websites and blogs, specialty publications, and freelance writers.
Start Small

A small story, even an announcement about your special event or volunteer project, in a weekly newspaper could lead to interest from the local TV station. A local TV story could lead to its affiliate network's interest. A story on the local NPR station could lead to a national spot. Frequent and consistent contact with local media raises the odds of getting some great exposure.

Tell a Riveting Story
CNN Heroes does not feature organizations, but individuals who are doing something extraordinary. That person has usually founded an organization, but it is the personal angle that often grabs media interest.Similarly, entrepreneurial efforts and small niche nonprofit groups often appeal most to news media.

Monitor and Communicate

Monitor the national media to hone your eye for what makes compelling stories. Then track local newscasts, newspapers and magazines, and tune into local radio stations for examples of feel-good stories and for the names of reporters who cover them.

Follow those reporters through their social media. Reporters use social media tools to both communicate with their followers and to find and research topics and ideas they want to pursue. Reporters do not wait at their desks for press releases to arrive. They are active on all the social networks, constantly scanning for ideas for their own stories.

Do not pitch reporters through their social media. Instead, use that media to understand what reporters are interested in. Then develop a pitch that is crafted to an individual reporter's particular needs. Deliver that pitch through the channel that reporter or blogger prefers--email is often the preferred method--and only approach one reporter or media outlet at a time.

However, don't just send general information about your organization. Highlight specific people and specific actions. Emphasize what makes your story different, and how it is relevant to issues that are already hot topics. Unusual situations and stories that are relevant to current local or national issues are more likely to capture the attention of a reporter.
Make Your Website Media Friendly.

Once a reporter or blogger knows about you, the first thing they hit is your website. Set up a media or press room, stocked with news releases, fact sheets, and free-to-use photos and videos.

Include links to media stories that have been done on your organization. Provide good contact information, including email addresses and phone numbers of people reporters, can contact immediately. Respond right away to any interest by any media anywhere. Writers, bloggers, and reporters work on deadlines. If you don't respond right away, they will find another organization.

Speak Up

Don't hesitate to communicate with the media, if you have a good, relevant and people-focused story to tell. The media are looking for feel-good stories. Yours just might be the right one.

​