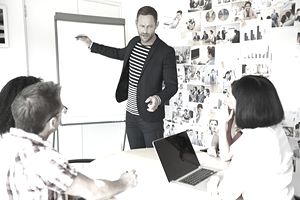 Every small business needs a marketing plan in order to effectively reach and engage customers. But it doesn't end there. Once you are armed with your marketing plan, it's time to create an execution plan that will guide your entire marketing process. The tips below will help improve your marketing process, whether you're just getting started or if your current campaign has started to fizzle out.
Invest In Your Team
Don't be afraid to spend a little money on the things that really matter.
The money you spend on marketing is an investment in the future of your business.
1. Train Staff - Invest in training your employees in all of the aspects of your business that are relevant to their jobs. It's also a good idea to make sure every employee has an understanding of the business and marketing goals.
2. Go Pro Whenever Possible - Resist the urge to design your own logo or host your own website just because you think it will help you save a few bucks. Marketing shouldn't save you money; it should make you money.
3. Hire the Right Contractors - If you get bogged down in too many of the details, you may face burnout (and possibly waste a lot of money). Vet your contractors well, and you won't have to micromanage the entire project.
Automate (When It Makes Sense)
Automation is a double-edged sword, and there is such a thing as too much automation. So this tip comes with a caveat: use your common sense to determine which tasks should be completed by a living, breathing human being.
4. Automate Social Content - There are several tools out there to help you automatically publish blog links to your social media accounts. Using them will save you the hassle of manually composing and posting an update when your new content goes live.
5. Create Email Autoresponders - There's no reason to write and send individual emails for repeat events.
Create autoresponders that give next steps and important information any time someone makes an online purchase, signs up for your newsletter, creates an account, or contacts you for customer service.
Keep Learning and Developing New Ideas
The fastest way to get your campaign off the ground is to study the latest trends. As you learn from others, you should be able to prioritize tasks. The more you know, the easier it will be to the choose tactics that will have the biggest, most positive impact on your success.
6. Network - Sit down for a coffee one-on-one, form a meet-up, or join an online group with other small business owners to discuss what works and what doesn't. You might discover some simple strategies you hadn't thought of before, and learn what tactics have been a waste of time for others.
7. Enroll in a Webinar - There are online classes out there for just about everything, and marketing is no exception. In many cases enrollment is either completely free, or simply requires you to create a profile. If you're new to small business marketing, these tools can help you get your feet wet.
8. Use Available Tools - Don't forget to scour the Internet for public resources. Check out everything you can find from YouTube videos and local government resources to marketing blogs and social media chats.
Successful small business marketing relies on having a solid marketing plan and a system for executing that plan. If you don't have a functional marketing plan yet, start here. Answering a set of key questions will give you the framework you need to create an effective marketing plan.