Small Business Loans: Sources, Pros and Cons
Should You Get a Small Business Loan? If So, How?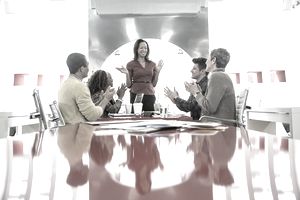 Definition: Small business loans are funds given to the owner of a small business that must be repaid over time with interest. This differentiates them from grants, which don't require repayment. 
Small businesses create 65 percent of all new jobs. For this reason, loans to these entrepreneurs keep the economy functioning.
Almost three-fourths of all small businesses needed financing in the prior 12 months.
The amount borrowed totaled $1 trillion in 2013, the latest statistics available. Of that, $585 billion were loans, $422 billion was credit from finance companies on receivables.  The rest was buyouts and venture capital.
Most new companies need $10,000 each in startup capital. Hi-tech firms need eight times that amount. Once they become established, small companies need loans to purchase inventory, expand or strengthen their operations. (Source: "Small Business Finance," Small Business Administration.)
Here are the pros and cons of the many sources of small business loans.
Banks
This is the best source if you qualify. This is the second most popular source of loans for small businesses, after retained earnings. They have the lowest interest rates since they use depositors' funds to make the loans. Your local community bank or credit union offer the best rates. (Source: "Small Business Finance," Small Business Administration.)
But banks require a business to show signs of success before lending money. This makes sense  because the bank wants to get a return on its investment.
This makes it difficult for small businesses that are just starting out. Banks also want to see that you've put some of your own money into the business.
In addition, they require some hard collateral, like real estate, equipment or inventory. You must provide a detailed business plan to show you've thought your idea through. For more, see Small Business Loan Qualifications.
SBA Loan
If you can't get a bank loan, you may qualify for a Small Business Administration loan guarantee. There are many different types of loan guarantees. The smallest is micro-lending, which are loans less than $50,000. A larger business should apply to the 7a program for loans up to $2 million. For more, see SBA Loan Programs.
SBA loans are very paper-intensive and time-consuming. It may take a long time to get your loan. That time could be better spent simply improving your business.
Micro-Loans
Microloans are from $1,000 to $50,000 loans with a wide range of terms. They're designed for start-ups, so they don't require a demonstrated history of profitability.
The Small Business Administration's Microloan program works through local non-profits. It funds start-up, expansion and child-care centers. It requires collateral and personal loan guarantees. 
Accion is a website that connects small businesses with lenders from around the world. It lends anywhere from $200 to $300,000.
Kiva allows lenders to contribute just a portion of the borrowers' loan. It is a non-profit designed to help entrepreneurs in under-served parts of the world, but U.S. small businesses can and do apply. ​Kiva.Zip provides interest-free loans if you're business providing a social good, such as organic food, an urban mushroom farm, or gluten-free vegan granola. 
"Boot-Strap" Loans
Boot-strap loans are the most common source of funds because loan applications are difficult and time-consuming. Most businesses that are just starting out use their own funds, loans from friends and family, or credit card debt. The advantage is that you can get any of these loans pretty quickly. 
The disadvantage is that loans from friends and family are emotionally risky. That's because they can permanently ruin your relationships with them.
Once friends and family become lenders, they may meddle with your business, causing distractions. If your business fails, they may take it personally or think you took them for granted. You might be forced to give them your car, home or anything else you put up for collateral. There could be hard feelings from all sides.
Seven percent of all small businesses use credit cards for short-term funds. That's because a credit card loan could wind up costing a small fortune, thanks to the high interest rates. (Source: "Small Business Finance," Small Business Administration.)
The home equity loan has the advantage that you can write off your interest payments. However, you might lose your home.
Here are some other ideas for Small Business Financing.