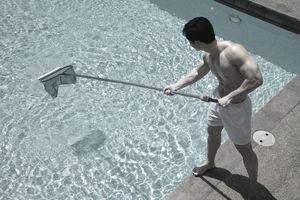 Meticulous pool maintenance is critical for homeowners, gyms, apartment complexes, hotels and motels, so you should find plenty of opportunities if you want to start a pool cleaning business. This is one of those small business ideas where you might have business year-round, or you might be able to take a breather during the off season. Those who live in warmer climes should be able to boost their incomes due to the large number of private pools needing year-round maintenance, but pool cleaners can also earn money by helping owners shut down and reopen their pools as the seasons change in colder regions.
The goal for most pool services is to establish weekly repeat business, so you can earn more if you also do repairs.
What a Pool Cleaning Business Involves
Pool cleaners adjust the water's chemical balance and keep pumps and filters running. They scrub and skim when necessary. Their services are often required after weather disturbances have showered a pool with leaves and other debris.
Pool cleaning is not a learn-as-you-go business. Pool cleaners should know their stuff, either through apprenticing or tagging along with a respected practitioner. Due to health codes, some states require certification if you'll be attending to public and health-club pools, Jacuzzis and spas. Florida requires that candidates take an open-book test to become certified. A knowledge of environmentally-friendly products, including chlorine alternatives, can be a plus and help you set your pool cleaning business apart from others.
What You'll Need to Get Your Pool Cleaning Business Started
Good physical health — efficient pool cleaning requires stamina and energy
Business cards and flyers to pass out at pool supply stores, motels, apartments, spas and contractors in your area, sources that will likely help you land your first customers
Basic pool cleaning equipment and chemicals
Reliable transportation to haul your pool cleaning gear
Certification — check with your area's health department to find out what's required
Insurance
The ability to swim — this cannot be overemphasized for those with ideas of starting this type of small business
Advantages of a Pool Cleaning Business
If you enjoy fresh air, water and visiting nice homes, this is the career for you. Some of the manual pool cleaning tasks will help you stay in shape. The work is usually performed outside in daylight, so you can plan your hours around a regular workday. You won't have to bust your budget on a wardrobe. Casual dress is acceptable — it's a physical job, after all — but you'll want to look professional. Service businesses are some of the most recession-proof.
Disadvantages of a Pool Cleaning Business
Some pool chemicals can be hazardous to your health. Constant exposure to sun can be a drawback in warmer regions, but it may be tougher to find steady business in colder climates. Consider adding snow-blowing and plowing to your services during the winter months.
A Pool Cleaning Business Real-Life Example
Terry Tamminen started his pool cleaning business in Malibu, California, servicing the pools of Madonna, Johnny Carson and Dustin Hoffman in the 1990s while preaching the ecological gospel.
He persuaded Walt Disney Company President Frank Wells, a customer, to finance an ocean-preservation movement called Santa Monica BayKeeper. That caught the attention of Governor Arnold Schwarzenegger, who tapped Tamminen to serve as head of the California Environmental Protection Agency. According to an article in the Los Angeles Times, Dustin Hoffman later told Tamminen. "Glad to see you finally cleaning up the big pool." Tamminen now travels the world as an energy consultant and still offers his ideas and advice to Schwarzenegger.