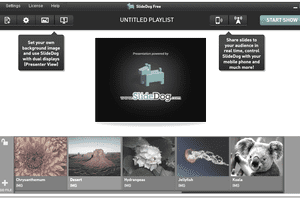 SlideDog is software built specifically for presenting already made presentation files. The idea is to use media files or a presentation program to create a playlist and then use SlideDog to present it to an audience.
There are numerous features that make it a pleasant choice for presenting files to a live audience, whether they're in the room with your or accessing your presentation from a remote browser.
Pros
Easy to use interface
Clean design
Very useful features
Accepts common file formats
Cons
Unable to modify already-made presentation files
Installation may be slow
Some features are only accessible in the professional version
Description
SlideDog can be installed on the Windows operating system only
Several Microsoft PowerPoint file formats are accepted in SlideDog: PPT, PPTX, PPTM, POT, POTX, POTM, PPS, PPSX, and PPSM
You can also build a playlist with PDFs, MP3s, PNG and JPG image files, lots of video file formats (MP4, AVI, DIVX, FLV, 3GP, MOV, etc.), and files made with Prezi
YouTube videos, webpages, polls, and feedback and chat objects can be inserted into the presentation too
The Web Remote feature gives the presenter the ability to control the flow of a playlist from a tablet, phone, or other web-capable device. When connected, you can flip to any slide with just a single click or tap
Live Sharing can be turned on to give up to 100 people access to a presentation through any web browser. When turned on, you get a custom link that you can share with anyone so that they can see your presentation no matter where they are
A chat room is included so viewers can chat with one another during a presentation
Custom notes can be added for the presenter to refer to, which he alone can see from a mobile device
Viewers of a presentation can move through slides that have already been presented without disrupting the live presentation
The presenter can send a poll to the visitors for live feedback on any custom questions
The background image can only be changed or removed in the professional version
Dual screen mode is another feature in SlideDog that lets you use two screens for controlling the slideshow, but it, too, is only supported in the professional version
My Thoughts on SlideDog
SlideDog is a really neat program. I like how versatile it is - being able to broadcast a presentation over the Internet or to people in the room with you is very nice.
As you're adding items to the playlist, they show up in a timeline-like interface that you can easily edit with drag and drop.
I also like that you can control the entire slideshow from a mobile device. This means you can move around a room freely and use your phone or other device as a remote without having to carry a laptop with you.
I've ranked SlideDog as the lowest program on my list of free presentation software because while it is awesome at presenting files, it's basically useless at building a presentation from scratch like building animated slides of text and shapes.
If you've already made presentation files with a program like Kingsoft Presentation or OpenOffice Impress, SlideDog may be a good choice for showing them off.
Note: It's recommended to use SlideDog on any version of Windows above XP, like Windows 10, 8, 7, or Vista. You can still use it in XP but some features may be disabled.