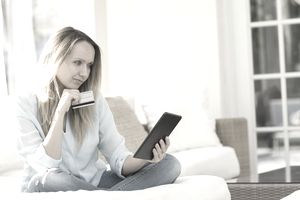 If you're facing an ongoing job search or tough competition, you're probably looking for ways to maximize your leads and get a leg up over other applicants. Paying for a job listing may seem like a good strategy with sites like Ladders, LinkedIn and FlexJobs, but does it make any sense to open your pocket book? The short answer is a simple and resounding NO!
Should You Pay for Job Listings?
The longer answer is that it may make sense to pay for websites that actually provide a service like finding jobs for you to apply for and/or applying to them for you, like JobSerf.
If you can afford the service, websites like these can be a way to save time and find qualified job leads. I'm not complaining about these types of sites because you are getting something for your money and you're paying for the service rather than access to jobs.
Fee-Based Job Sites
The sites I have an issue with are those that charge job seekers to access job listings. Job seekers, in many cases, don't realize that they can find the exact same job listings on other sites - absolutely free.
There are so many of these sites that I've lost track. I've spoken to numerous experts and the consensus is that there aren't any listings available on the sites that charge job seekers a fee that aren't available elsewhere free - on free job boards, companies' websites or posted elsewhere.
You Don't Need to Pay for Job Listings
There is no need to pay a monthly or quarterly fee when you can access the same jobs posted on company web sites or on the job search engine sites.
Before you consider paying for anything, carefully check out the site to see what you're getting for your money. Read the fine print - some of these sites only let you cancel over the phone and charge you for a full month, regardless of when you cancel. Here are some things to investigate according to a Forbes.com article on the topic:
Determine what the company specifically offers you--solely job listings or connections to people doing the hiring?
How much do they charge and what do you get for your money? Does that fee give you unlimited access to listings or just a certain number of matches per month?
If you pay upfront, is there an aggravation-free money-back guarantee? Do you pay after you've found a position? Can you sign up for a trial period and what's the cancellation policy?
How do you know that the right recruiters will be able to find your resume and what control do you have over releasing your personal information online?
Do they offer additional services like career coaching or resume review?
Where to Find Free Job Listings
Here are the best sites to find free job listings including job boards, job search engine sites, niche job sites, jobs listed by type of job seeker and location, and additional job listing sites. .