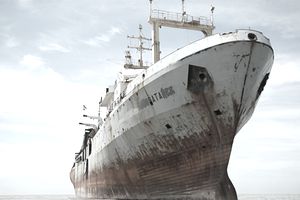 What is ship breaking and how does it differ from responsible ship recycling?
Scrap vessels are comprised of more than 85 percent recyclable steel, not to mention non-ferrous metals. As such, they have long been valued for recycling by ship breakers. It has been a process, however, that continues to be fraught with controversy due to a lack of regard for environmental and safety considerations.
Ship breaking and responsible ship recycling both pertain to the processing of end of life ships and vessels to reclaim and reuse recyclable materials from them, especially for the recycling of metal, including ferrous and non-ferrous metals.
Ship breaking and responsible ship recycling are completely different with respect to environmental and social responsibility, however, as might be surmised by the different words used to describe the two approaches. Case in point, these ships contain many hazardous materials that can have considerable harmful effects on human health and the environment if not dealt with appropriately. Around 70 percent of all ​ship breaking takes place in Bangladesh, India, and Pakistan. 
What are the social and environmental issues faced by the ship breaking industry?
Today, ship breaking takes place only in third world countries, mainly due to low labor costs and less stringent environmental regulations against improper disposal of hazardous substances like lead paint. Until the late 20th century, however, ship breaking took place in developed countries like the United States and the United Kingdom.
Ship breaking includes an array of hazardous conditions as well as unsafe work practices.
The primary hazards associated with improper ship breaking include hazardous exposures to asbestos, polychlorinated biphenyls (PCBs), lead, excess noise, and fire. Unsafe work activities include metal cutting and disposal, paint removal, confined space entry, bilge and ballast water removal, as well as removal and disposal of ship's machinery.
  Ship breakers are put at risk through deficiencies in training,  personal protective equipment (PPE), fire protection measures, first aid coverage and proper emergency response.
Who is responsible for safe ship recycling?

When it comes to accepting responsibility for responsible recycling, various stakeholders continue to point the finger of blame at each other. For example, ship owners blame cash buyers of old ships for not choosing to send them to responsible recyclers. The cash buyers, on the other hand, say that they would be operating at a loss if they paid for safe and green ship recycling. Yard owners from India have argued that ship owners do not provide a proper inventory of hazardous materials found on ships sent for recycling and that additionally, they are not generating additional business from investments made to create safer, more environmentally sound workplaces. 

While everyone has a responsibility to provide responsible ship recycling, some experts such as Patrizia Heidetter, Executive Director of the NGO, Shipbreaking Platform, believe that the ship owners have the greatest responsibility, and the most leverage to shape change. If owners demand clean and safe ship recycling, and the pricing for scrapping ships is structured to support this outcome, the process should work.
The industry believes that economic incentives would be an effective way to promote responsible ship recycling.
Who else promotes responsible ship recycling?
A number of environmental and labor welfare associations have provided strong voices urging the modernization of the ship breaking industry. In 2006, Greenpeace helped raise awareness with respect to the poor standard of working conditions in India's ship breaking yards. In America, Occupational Safety and Health Administration (OSHA) promotes workplace safety to save workers from injuries and deaths. OSHA's Shipyard Industry Standards (Title 29 Code of Federal Regulations, Part 1915) address various aspects of ship breaking operations.
Today, the International Ship Recycling Association (ISRA) plays a leading role in promoting responsible ship recycling.
It arranges summits and meetings to encourage environmentally sound and safe ship recycling. It supports the importance of creating a level global playing field, increasing green recycling capacity, uniting the responsible yards of the globe, the establishment of alliances with ship owners and certification of its members through ISRA standards.
Further Reading