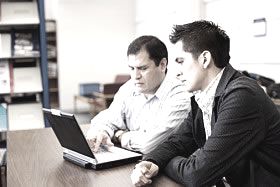 There is no reason to go it alone if you are looking for a job.  Tapping the resources, expertise, advice and support of career offices can help you to access more jobs and carry out your search in less time.  Job seekers who carry out their search in isolation tend to repeat mistakes and employ a narrower set of strategies to find employment.
Department of Labor and Non-Profit Services for Job Seekers
There are different types of organizations that provide career services to job seekers.
State department of labor offices provide services to unemployed workers and others who are job searching. There are non-profit groups that provide career advice and assistance, as well.
In addition to providing electronic and print resources, many public libraries offer workshops and classes. School districts and community colleges offering continuing education classes often include career-related courses.
Career Counselors and Job Coaches
Private career counselors and job coaches help clients to set goals and conduct effective job searches.  Fees and payment structures vary greatly by provider.  Practitioners who charge a reasonable hourly fee allow you to sample their services without making a large investment up front.  Beware of private counselors who want to charge a lump sum of thousands of dollars for a preset array of services.
University Career and Alumni Offices
College career and alumni offices provide a variety of services to students and alumni.
Career Office Services
Here's an overview of the services provide by career offices:
Career counseling
Resume and cover letter writing assistance
Mock interviews
Seminars and workshops on job search topics (networking, job searching online, resume writing, etc.)
Electronic and print resources, including job search databases, educational resources, and literature on specific careers
Computers, printers, copiers  and fax machines
Recruiting sessions and job fairs
Job search clubs or groups
Networking events and advice
Career aptitude tests and personality tests
Job shadowing programs
Services for veterans, young adults, the homeless, and other specialized groups
Occupational and skills training courses
Alumni network online database (in college career offices)
Alumni networking events (in college career offices)
Where to Find Job Search Help
Here's information on where to find free personal job search help, including job clubs, library services, career services, and more free resources for job seekers in need of job search assistance.