Selling Strategies for Falling Real Estate Markets
Tried-and-True Tips for Selling Your Home Fast in a Falling Market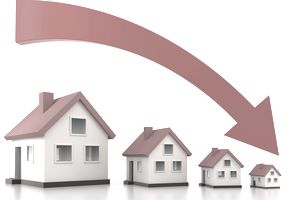 When real estate prices are falling and more than six months of inventory remains on the market, the market is (take your pick):
Slumping
Depressed
Softening
Falling
Slowing Down
Whichever term you choose, it doesn't matter. What matters is the fact that people still buy and sell. The market hasn't come to a crunching standstill. You simply have to adjust to the market -- and those who don't will get squished.
Selling Strategies for Down Markets
If you are a seller, shoving a "For Sale" sign in your front yard isn't going to help much. Nor is simply plopping the listing into the Multiple Listing Service (MLS). You've got to be aggressive and make your home stand out like a shining star among the hundreds of others on the market. Whether you plan to hire an agent or you want to sell your home yourself, you can use these strategies to sell quickly and for more money in a depressed market:
Getting Your Home Ready for Market
Here's how to make your house sparkle and twinkle with that come-hither-and-buy-me look. We've left no cobwebs behind and no windowsill unpolished.
Setting the Stage
With attention to the small details, you can add that "Wow!" factor to your home. Staging goes beyond picking up the clutter and cleaning. It's all about inserting the magic and invoking that mysterious urge that makes a buyer say "Yes, I want this house."

 
The Queen of Home Staging
Barb Schwarz coined the term home staging and shares her secrets with you. This interview highlights the methods Schwarz preaches that actually do work!

 

Improvements that Return the Investment
If you have time before putting your house on the market, a bit of cash and the energy to do it yourself, you can make the little repairs and upgrades that will return rewards.

 
More About Buying in a Down Housing Market
At the time of writing, Elizabeth Weintraub, DRE # 00697006, is a Broker-Associate at Lyon Real Estate in Sacramento, California.