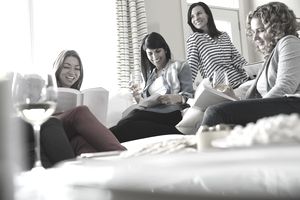 You can sell more books by engaging book clubs — if you're lucky enough to get onto their radar screens.
Being popular with book clubs has "made" a number of books into bestsellers — but for those of us who have been professional book marketers, they are notoriously difficult to promote books to.
Learn all about book clubs and get some tips about utilizing their book marketing potential.
Due Diligence Definition — What Is a Book Club?
Book clubs — aka "book groups" or "reading groups" — are a gaggle of people who all read the same book and then discuss it.
Within those parameters are many variations — book clubs that read around a theme and those who pick what looks good to them; book groups that meet in person and those that "discuss" virtually in an online forum; readers groups that are self-organized and those that are "assembled" by another entity, such as a bookstore, library, or newspaper.
Why Book Clubs Are Great for Book Marketing and Book Sales
There are a number of reasons why it pays to engage book clubs:
Book clubs mean multiple copy sales. Sure, a couple of folks might share a copy or check the book out from the library – but many book club members like to own copies of the books that they've read.
Book clubs create exponential word of mouth. Heck, the definition of the club is that they talk about your book — and generally discussion breeds more discussion and more general awareness of your book.
Book clubs are comprised of avid readers. And what more privilege and joy can an author ask for than to have his or her book discussed by a passionate group of readers?
The Challenges of Reaching Book Groups
In most cases, book clubs are still "grass roots." They aren't centrally organized and they operate largely by word of mouth. Further, while some groups can boast being together for years or even decades, many others don't survive that long.
These hard-to-pin-down qualities mean that there isn't any easily accessible master list of reading groups that's been corralled for book marketing purposes.
Book groups remain difficult to ferret out and mostly un-exploitable by those who seek to manipulate the book market. But the fact that reading groups are difficult to access en masses is also precisely what makes book groups such a valuable, and authentic resource for authors.
To Market Your Book to Reading Groups, Go Where the Readers Go
Because there's no centralized place where an author or book marketing pro can find all of them, getting to reading groups is largely a process of them discovering you. In order to do that, you and your book need to "go" where the book clubs congregate and where they find their books.
Access your own "online" and "offline" social circles. Spread the word that you'd love to "connect" with any friends and family book clubs. Use these connections as market research – what kind of books do they read? Do they invite guest authors?
Start local. Inquire at your nearby bookstores (who may offer discounts for volume book club sales) and public library branches. Depending on your book's subject matter, think hard about "affinity" groups in non-traditional circumstances. For example, I know of local parenting support organization that hosts a monthly book club meeting around parenting books.
Meetup.com can be a great resource for finding these groups.
Explore online reading groups. Not all book clubs meet physically in person.
Goodreads, LibraryThing – These resources with millions of readers
Reading Group Choices – This website provides regular reading advice through newsletters and guides that are distributed to libraries, bookstores, book festivals, etc.
Make Sure Your Book Has Ready "Club Appeal"
According to famous librarian Nancy Pearl, unreliable narrators and ambiguous endings make for good book club picks. But whatever your book is about, you can craft great reading group discussions.
Make your book club push in paperback. Many book clubs are price-sensitive so if your book comes out first in hardcover, it makes sense to save any major book club marketing efforts for the paperback​ book launch. And any digital or paperback versions also gives you the opportunity to include a reading group guide.
Create one-sheet to distribute to bookstores and libraries on how your book is great for groups. Describe the book, offer social proof (reviews, quotes), and list the support materials (such as reading group guide and meeting recipes) and / or giveaways (bookmarks?) that are available to those groups who read the book.
Add "club appeal" to social media efforts. Make "great for book groups" a prominent part of your social media marketing campaign. Make sure your descriptions are compelling (naturally) and indicate that the book would be good for reading groups. Get and circulate social proof such as reviews or quotes. If people in your network have been so kind as to review your book, hint to them that, if they agree it would be good for book clubs, you'd love it if they mentioned that fact in their review.
Provide a reader's group guide in the book itself. Also called a book club discussion guide, it's a list of thoughtful questions to help spur discussions (see more on that, below). If you can't put one in the back of the paperback or digital book itself, add the PDF to your website.
Hints for Developing a Reading Group Guide
Create open-ended questions. "Yes" or "No" answers stop discussions cold. Instead, consider inquiries such as, "What did you like about the protagonist?" "What was your favorite passage and why?" "What did you find most shocking about [character's] actions?"
Consider "ancillary" book group materials. Thematic menu suggestions (or cocktail recipes!) for book group get-togethers.
Give Something Away
Hold a Goodreads giveaway. To raise awareness in that venue, where millions of readers congregate.
Hold a contest for one or more virtual book group visits. Thanks to digital video technology, authors can virtually visit book groups (children's authors and YA authors often visit classrooms virtually). Since you won't incur travel expenses for the effort, get your Skype or Google Hangout skills in order (it's not that difficult) and run a contest on your author or book Facebook page.
Offer an inexpensive promotional item. Or one "nicer" item as a raffle item. There's goodwill in a useful giveaway – a bookmark, a magnet, promotionally imprinted Post-It notepads.
"Recirculate" Your Book Club Successes
If you've cracked a book group or two — congratulations! Now take that success and capitalize and build on it:
Ask for book group feedback and get permission to post favorable quotes on your book's Facebook page and your author website.
Ask for book groups to take pictures of their discussion that features your book and post on your blog, Facebook page or author website.
Recount your book club experiences in a blog or Facebook post.
If you're doing a public book club event (such as at a bookstore), help the organizer promote it – Tweet, retweet, blog, etc., the date and time.
As a book club is likely to invite you only once for a certain book, share the wealth by recommending other authors to book clubs with whom you have a successful relationship.