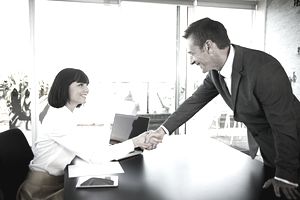 Many companies interview candidates for employment twice, or sometimes even more often. Second round interviews typically involve more detailed interview questions about the applicant, their qualifications, and their ability to perform for the company. These second interviews may include interviewing with multiple interviewers including management, staff, executives, and other company employees.
Tips for Sending a Thank-You Note After a Second Interview
After the second interview, it's a good idea to send a second thank-you note or email message.
In fact, it's especially important after a second interview to take the time to write a personal message to the people who interviewed you - even if you interviewed with them already and thanked them for the first interview. Many employers expect you to reply promptly.
In professional interviews, interviewers will normally hand applicants their business cards at the end of their conversation. These cards contain the contact information you will need to address and send your thank you letters.
According to the York Technical Institute, very few applicants send thank you notes, so use your letter as a way to stand out from the crowd and make a good impression.
It's the final opportunity you will have to make a connection with your interviewer(s) and to build a relationship with them, as well as doing your best to convince them to hire you.
Who to Thank
If there was more than one interviewer, you should thank each interviewer separately.
Each one gets his or her own handwritten note or email message; do not "cc" all of your interviewers in a single email thank you letter.
What to Include in Your Note
When writing a second interview thank-you note, it's important to specifically state why you are the best candidate for the job. Since you made it to the second interview, the stakes are high and you are definitely being compared to other highly ranked candidates for the position.
Thus, this second thank you note needs to serve as a strong self-marketing statement. Here's an example of a second interview thank you-note, which can be sent via mail or email, that you can edit to fit your personal circumstances.
You should use your thank-you note to persuasively reinforce the ways your skills and experience are a good match for the position for which you interviewed.
In order to do this effectively, take the time immediately after your interview to sit down and write a list of the questions you were asked and of your answers. Were there particular qualifications that the interviewers emphasized that they were seeking in a successful candidate? If so, mention these in your letter, along with a few tangible examples of how you have demonstrated these skills in the past. Did an interviewers express doubt about one of your qualifications? If so, this is the time to address and dismiss that issue.
Also, there may be something you forgot to mention during the interview - so this is an opportunity to bring it up. A second thank-you note is also a chance for you to enthusiastically reiterate your interest in the position and in the company. Be sure to mention something unique and specific that you and your interviewer discussed about the organization, their company climate, or their mission, as they likely have interviewed several people.
This will help jog their memory about your interview and allow you to stand out from your competition.
Finally, repeat your thanks for the second interview and request that the interviewing committee keep you updated on the status of their candidate search.
When to Send Your Email or Note
Your second interview note, whether hand-written or emailed, should be sent no later than 24 hours after your second interview.
Review Thank You Notes and Emails
For additional ideas on what to write in your thank-you note, review our sample thank you letters, thank you notes, and thank you email messages, including more specific advice on second interviews, lists of common second interview questions, and tips for acing a second interview.
More Thank You Letter Articles and Advice: Thank You Letter Writing | Email Thank You Letters  | Top 10 Thank You Letter Tips