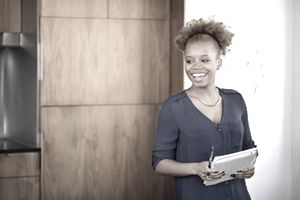 After the second round of interviews, you will need to send a thank you note to your interviewer, even if the same person interviewed you the first time. Sometimes a second thank you note can be hard to write — after all, haven't you already said everything you had to say in your first letter? Instead of seeing it as a meaningless hurdle, try thinking about your thank you letter as an opportunity.
What to Expect From a Second Interview
When you are invited back for a second interview, you are likely one of the top contenders for the job. Usually, only a select few candidates are called in for a second round of meetings, and the interview will reflect that higher level of expectations. Make sure to prepare and dress appropriately, as this is your chance to clinch the job.
During your second interview, you'll be discussing things more in depth than in the first interview. You might meet other members of the team, or talk in more technical terms about what the position entails. By a second-round interview, companies are usually close to a decision, and possibly weighing two potential candidates.
Your second interview thank you letter gives you another opportunity to reiterate your interest in the position, reference your most relevant qualifications, and thank the interviewer for taking the time to speak with you.
You can add some depth to your second thank you by referencing new information or contacts you gained during the follow up interview.
What to Include in Your Email or Note
Your thank you note should reflect the differences in tone between the interviews. This is a final chance to make the case for choosing you for the role.
It can be helpful to review examples of thank you notes to give you some ideas for how to make the best impression.
By now, you should have a strong sense of what the job entails, and can speak specifically to why you're a strong candidate. In your note, you might mention a moment in the interview that was particularly meaningful, or share a link to an article that relates to the conversation you had.
You can also inquire in your thank you note, if you haven't already during your in-person interview, if the interviewer needs any additional details from you, and about the timeline for a hiring decision.
By a second-round interview, you may be on more familiar terms with the interviewer. If that's the case, you can be a bit less formal in your note — you may want to address the interviewer by first name, for instance. Of course, your thank you letter should still be written as proper business correspondence, and carefully checked for grammar and typos.
Try not to repeat your first note too closely. If you have additional points to make, you should, but it's fine to keep your note short and to the point if you don't have a lot to say.
Thank You Note Samples for a Second Interview
Here are some thank you note examples to send after a second interview.
Sample #1 - Business Letter
Your Name
Your Address
Your City, State, Zip Code
Your Phone Number
Your Email
Date
Name
Title
Organization
Address
City, State, Zip Code
Dear Mr./Ms. Lastname:
Thank you for taking the time to interview me for the second time. I appreciate your interest in my candidacy for the Marketing Director position.
As we discussed, my strong skill set and my experience with ABC Company in a very similar role would enable me to provide strong leadership, and to immediately provide the guidance and expertise to improve departmental performance exponentially.
I am pleased to have had a chance to talk with you again, and thank you again for your consideration.
I look forward to hearing from you.
Best Regards,
Your Name
Sample #2 - Email
Subject: Thank You
Dear Brittney,
It was great to meet with you about the masseuse position at ABC Wellness Center.
During my initial interview with Lindsay, I got a terrific insight into the way you integrate total wellness into your program. I was glad to have the opportunity to share with you some of the ways that I think my specialization would fit in with your approach.
Thank you for considering me for the position. I look forward to hearing from you in the next few days.
Regards,
Alexa Smith
alexasmith123@email.com
123-444-5555 cell
How to write a thank you letter including who to thank, what to write, and when to write an employment-related thank you letter.
More Thank You Letter Examples
Thank you for job interview, internship thank you letter, thanks for the informational interview, thanks for help, and a variety of additional interview thank you letter samples.