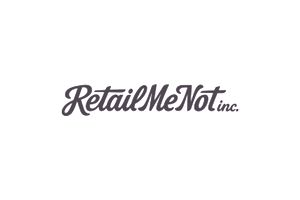 Anyone who enjoys saving money has probably been a fan of the RetailMeNot website for years thanks to its ability to give you promo codes for online retail purchases. But the company also features a wonderful (and free) app that can help you find coupon codes for both in-store and online purchases, and not just at the big retailers. Smaller specialty shops occasionally list promo codes as well.

Not only is RetailMeNot an easy-to-navigate app, it's also gaining traction with investors.
Bloomberg.com recently published an article noting that RetailMeNot's "mobile revenue more than tripled to $5 million from $1.4 million a year earlier," indicating that the app is growing rapidly.

If you're interested in ratcheting up your RetailMeNot savings, check out the following three tips that can help you save big on your purchases.

1. Start With 'Today's Hot Deals.'

When you first open the RetailMeNot app, you'll see that you can either search for stores or peruse "Today's Hot Deals." Scrolling through the daily deals is a quick and easy way to get acquainted with how the app works, since it only lists ten or so coupons and won't leave you overwhelmed with data.

Use your finger to scroll from one daily deal to the next and keep note of the banner at the top of each store name, because that's an important factor in your shopping. Above the retailer's name will be a banner that either says "Online" or "In-Store." The coupons designated for online use will typically offer you a coupon code or promo code that you'll enter during checkout when you make an online purchase using your phone or computer.


On the other hand, the deals marked "In-Store" can be redeemed by showing the retailer the coupon directly from your mobile phone. For example, the Applebee's coupon shown above offers two free kids meals for every adult entrée purchase every Monday through Thursday. If this interests you, tap the "Get Coupon" button and then present your phone to the server before you get your bill to redeem the coupon.


Granted, RetailMeNot made its name for revealing online coupon codes, so you'll find more of those on the app than in-store coupons, but that doesn't mean you can't find quite a few great deals on the app that you can redeem on-site.

2. Search for Stores by Name.

Once you've got the hang of the app by following step one above, you can move on to searching for store coupons using the name of the retailer. For example, I typed in "Gap" in the search field and the app returned several dozen coupons for online use (note that "online" is the default search result for each store.) Then I tapped "In-Store" at the top of the screen and the app returned a coupon for 10 percent off of my in-store purchase. When I tapped "Get Coupon," it brought up the screen that I was then able to present to the cashier, who followed instructions on the app to give me my 10 percent discount.

If you are heading out to the mall and you make a list ahead of time, you might want to pre-search for coupons that interest you on the app, and then tap "Save" on the app when you find one you like. Then you can just tap the "Saved" icon at the bottom right of the app screen once you're at the mall to bring up all of the coupons you're planning to use on your excursion.


3. Tell the App When You Need More In-Store Coupons.

There will be some stores that you search which will offer quite a few online coupons but no in-store deals. For instance, I was heading to the outlet mall for back-to-school shopping recently and wanted to find coupons for the J. Crew Factory Store on the app. The app gave me many online options but came up empty for in-store coupons.

The app will then give you the option of tapping "Tell this store you want in-store coupons!" Once you hit that button, the app will share your request with the company, hopefully prompting them to release more in-store coupons to RetailMeNot. In addition, the app then recommends stores similar to the one you searched that do offer coupons.