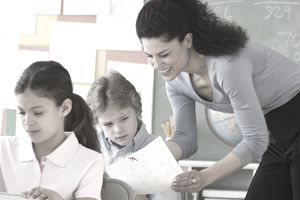 Are you applying for a position as a school or preschool teacher? In your resume, you'll want to emphasize your teaching experience, including student teaching and relevant volunteer work. Make sure to include teaching skills in your resume as well, since schools and educational organizations will expect you to have them. 
If you're unsure how to write your resume, take a look at the sample teacher resume below for ideas about what to include and how to structure the document.
You'll also find an example of a resume written specifically for an early childhood education job. 
Teacher Resume Example
FirstName LastName
Street Address
City, State, Zip
Phone
Email Address
TEACHING EXPERIENCE
Teacher
Clifton Park High School, Clifton Park, CA
September 20XX - Present
Developed and implemented daily and unit lesson plans for 9th grade, administered tests and evaluations, and analyzed student performance.
Conducted group and individual reading, math, and science activities.
Fostered a classroom environment conducive to learning and promoting excellent student/teacher interaction.
Participated in faculty and parent conferences.
Teacher
RS Denham Elementary School, Albany, CA
June 20XX - June 2008
Created and implemented daily and unit lesson plans for 3rd grade, administered testing, and tracked and analyzed class performance.
Conducted group and one-on-one math, reading, and writing activities.
Developed excellent rapport with students.
Fostered a classroom environment conducive to learning and promoting excellent student engagement.
Conducted parent conferences.
Student Teacher
Jasmine Street School, Saratoga Springs, CA
Spring 20XX
Designed and taught lessons in math, science, social studies, and reading curricula in 6th grade classroom.
Created and implemented interdisciplinary literature study based on international theme.
EDUCATION
Michelin College, Saratoga Springs, CA
May 20XX
Bachelor of Science
VOLUNTEERISM AND LEADERSHIP
Town Elementary School, Philadelphia, CA
January 20XX - Present
Tutored and mentored 2nd and 3rd graders enrolled in an after-school program.
Early Childhood Education Teacher Resume Example
The following is an example of a resume for an early childhood education position. The resume includes a resume profile, an experience section, and an education section.
Marilyn M. Arnold
4500 Ridgewood Road
Memphis, Tennessee 38116
901-599-0316
email@yahoo.com
Profile
Preschool lead teacher with ten years of daycare and preschool teaching experience. Strong organizational skills, thorough educational background, and ability to work well and communicate effectively with children, parents, colleagues, and supervisors.
Experience
Lead Teacher
La Petite Academy, Memphis, TN
June 20XX-present                        
Plan activities that stimulate growth in language, social, and motor skills.
Responsible for managing class of 16 students ages 3-4.
Develop strategies for best utilizing assistant teacher's skills and offer regular professional development.
Communicate with parents on a regular basis, via annual assessments, quarterly meetings, and monthly phone conversations.
Owner/ Director
ABC Daycare, Memphis, TN
May 20XX-May 20XX                             
Oversaw daily operations, managing a staff of 12 employees.
Responsibilities included administrative, billing, personnel issues, policies and procedures, payroll, and quarterly tax preparation and submission.
Implemented curriculum plans for three class levels.
Maintained ongoing communication with parents regarding children's activities, behavior, and development, and responded to all parents' concerns as they arise.
Maintained records and reports on each child.
Overnight Stocking/Sales Associate/ Department Manager
Wal-Mart, Memphis, TN
April 19XX-January 20XX                              
Responsible for customer service, via in-person management and dealing with questions and concerns via phone.
Ordered merchandise and managed inventory.
Developed curriculum for staff professional development days, and led training for in-store interns.
Education
MA in Elementary Education, University of Memphis
Expected graduate date May 20XX
BA in English, Southwest Tennessee Community College
May 20XX
Associate of Science Degree, Southwest Tennessee Community College
May 19XX
Grade Point Average 4.0
Earned 80% of tuition by working while carrying a full course load
Nursing Assistant Certification
More Advice for Teachers
Teacher Job Search Tips 
See how to get started on your job search, including when to look - and where. Plus, get details on the interview process and how long it will be. 
More Teacher Resume Examples
Teacher and other education-related resume examples including early childhood education, teaching abroad, and related positions such as youth worker and recreation coordinator.
Cover Letter Examples for Teachers
Review these examples of cover letters for teachers to get ideas for your own cover letters.
More Sample Cover Letters
Cover letter samples for a variety of career fields and employment levels, including an internship cover letter sample, entry-level, targeted, and email cover letters.