Sample Reference Letter for a College Student, Plus Tips and Advice
Sample Letter as Well as Tips and Advice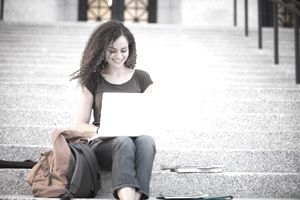 A reference or recommendation letter should not be taken lightly. If a student asks you to serve as a reference, only consent if you know the student well and can speak highly of their character and work ethic. Start by introducing yourself and then explain how you know the person, and be specific. For instance, you might say that you own a communications company and that the student was a full-time intern over the summer.
Or, you might say that as a college professor the student served as your advisor for two years. The important thing is to be as specific as possible.
Also, be sure to provide concrete examples of the kind of work that the student did and how they excelled in each area. If possible, explain how the student's work benefited you, or your business. 
Sample Reference Letter for a College Student
Dear Mr. Smith,
I have had the pleasure of working with Alicia Jones for the past two years while she served as an assistant in the Office of Career Development, where I hold the position of director. Alicia has consistently shown the ability to establish an excellent rapport with many different constituents including students, alumni, administrators, and staff. She is genuinely interested in helping others and provides service in a consistently positive and helpful manner. She also knows how to comport herself when things go wrong.
For instance, during last year's Career Services Day, Alicia hosted the New Student's Desk and demonstrated grace under fire when the computers went down and pamphlets and other crucial material were no longer available. She managed to reach our IT department on short notice and they were able to rectify the situation without delay.
This is but one example of how Alicia is self-assured and calmly handles stress, something very common in a busy office.
Alicia is also exceptionally responsible and is always the first to volunteer and help out with any task from the mundane to the challenging. I have rarely met a student employee over the past ten years upon whom I can rely on as much as Alicia. Initially, Alicia was hired to man the front-desk because of her strong interpersonal and communication skills. She quickly learned the parameters of the office and displayed such a strong work ethic I promoted her after just four months. Not surprisingly, she quickly learned the inner workings of her new position and before long excelled in her new role, completing tasks either on-time or ahead of schedule.
I think very highly of this young, bright woman and recommend Alicia without reservation for employment, whether it's full-time, part-time, or just seasonal work
Please let me know if you have any further questions about this outstanding young woman. Also, I am available to talk to you by phone or video conference with you to further explain Alicia's qualifications in more detail.
Ms. Jane Doe
Director, Office of Career Services
Address
Phone
Email
Reference Letter Samples
Sample reference letters and recommendation letters, letter samples for character references, and letters asking for a reference.