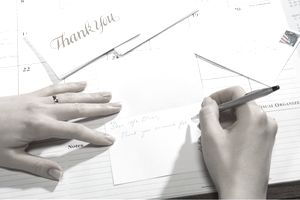 It's always a good idea to write a letter of appreciation to express thanks and gratitude to someone who has provided help or assistance to you, whether this is during a job search or simply in the daily course of your performance in the workplace. 
Why Write a Letter of Appreciation 
Throughout your career and job searches, you'll likely get a lot of help. Mentors and bosses will provide advice and strategy, while co-workers may help with projects and training.
Others may freely step up to cover your work responsibilities in the event that you become ill or have to take an unanticipated leave of absence. Many people will likely make introductions or connect you with jobs or contacts.
There are endless opportunities to express your appreciation to all the people who've aided you.
Sending a letter of appreciation is a great way to reach out and make others aware of your gratitude for their help. It's a courteous gesture - and also helps increase the likelihood that people will lend you a hand again in the future. 
What to Include in Your Letter
A letter of appreciation does not have to be long. Sincerity is more meaningful than length. 
Begin the letter with a greeting, and then let the recipient know why you're writing. For example, you might say: "Thank you for bringing me up to speed on the new accounting program," or "I just wanted to let you know how much I've appreciated your advice over the past two weeks as I debated those two job offers." Then, share more details about how much the recipient's help has meant to you.
Thank them again before your closing sign-off. 
Your letter of appreciation can be as simple as a short thank-you email. But since email inboxes overflow, it might be even more meaningful to mail a handwritten letter or card. Getting a hard copy letter of appreciation will really make the recipient's day, and show how their help elevated you to where you are now.
It is important to take the time to thank everyone who helps with your career or job search. Here is a sample appreciation letter to send to a contact who has provided assistance.
Sample Appreciation Letter
Your Name
Your Address
Your City, State, Zip Code
Your Phone Number
Your Email
Date

Name
Title
Organization
Address
City, State, Zip Code

Dear Mr./Ms. Last Name,
Thank you for taking the time to talk with me today. I sincerely appreciate the time you spent reviewing my career goals and recommending strategies for achieving them. Your advice was very helpful and gave me a new perspective on available opportunities.
I especially appreciate your offer to connect me to others in your network. I plan on following up with the contacts you emailed me right away. I will also use the online networking resources you recommended to further my job search.
Any additional suggestions you may have would be welcome. I'll update you as my search progresses.
Again, thank you so much for your help. I greatly appreciate the assistance you have provided me.
Best Regards,
Your Signature (hard copy letter)

Your Name
Sending an Email Appreciation Message
If you are sending an email message, the subject line of the message can simply say thank you:
Subject Line: Thank You
Thank You Letter Writing Tips
Writing Thank You Letters
How to write a thank you letter including who to thank, what to write, and when to write an employment-related thank you letter.
Appreciation Letters Samples
It is important to thank everyone who helps with your career or job search. Here are sample appreciation letters and email messages to send to contacts who have provided assistance.
Letter Examples
These letter samples, including cover letters, interview thank you letters, follow-up letters, job acceptance and rejection letters, resignation letters, appreciation letters, business letters, and more great employment letter samples, will help you get an interview, follow-up, and handle all the employment related correspondence you need to write.
Thank You Letters
Thank you for a job interview, internship thank you letter, thanks for the informational interview, thanks for help, and a variety of additional interview thank you letter samples.