Sample Employment Offer Letter
Found the Right Candidate? Use This Letter to Offer Them the Job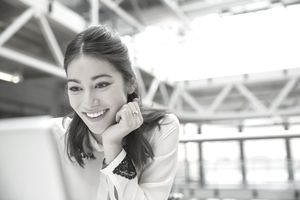 Need a simple, sample employment offer letter for everyday use? Use this sample employment offer letter for most positions in your organization. This offer letter is written following reaching verbal agreement on the terms and conditions of employment. You don't want to spend your time writing and rewriting offer letters when, for most jobs, you just need a simple agreement. 
The letter is most useful for beginning to mid-level positions that generally have a fairly non-negotiable salary, benefits, and other terms.
Employers generally offer one benefits package out of fairness and consistency to all of their employees. It is unusual for an employee at these organizational levels to ask for $5-10.000 more over the salary they were offered.  
Job Offers for Managers and Senior Staff
With senior staff positions and management jobs, the candidates are much more likely to need a more complicated job offer letter. They are more inclined to expect that the employer will negotiate with them and that the initial offer is not the final offer.
These senior candidates will negotiate many more factors that can include company cars, extensive life insurance coverage, extra annual leave and vacation, and a serious severance package if the relationship with the new employer doesn't work out.  The offer to senior candidates may also include a contract that is overseen by an attorney.
In the case of beginning to mid-level positions, generally, you will have verbally offered the job to the candidate who has indicated that he or she will accept the position, under the stated terms.
You hold these conversations before you write the employment offer letter.
This saves time and potential hard feelings for all involved in the employment offer: the employer, the prospective employee and occasionally, an employment employer side attorney.
The candidate's acceptance of the position is tentative until you receive the signed offer letter, and the signed confidentiality agreement, if you use one.
Put a time limit on how long the candidate can take to respond one way or the other to the offer letter. This will save you from losing time from your candidate search should your prospect change his or her mind. A one week limit or five work days is a generous number.
If you give the candidate a longer period of time to officially accept your position, you risk several unpleasant consequences.
Your other best candidates may have accepted positions elsewhere.
Your candidate search goes cold as your original applicants disappear and you will need to start your recruitment over again.
Sample Employment Offer Letter
Date
Name
Address
City, State, Zip
Dear Shuman,
This is an offer of employment as a customer support specialist at (Company Name). This offer is contingent upon our receipt of your college transcripts to confirm your degree, and (any other contingencies that you, the potential employer, may wish to state).
Your title will be customer support specialist if you accept this employment offer. You will report to Steve Smith, manager of customer support.
In the role of customer support specialist, you will be expected to carry out the duties and responsibilities described in the enclosed job description which is periodically updated to reflect customer service needs.
We are offering you a base salary of $40,000.00 which will be subject to deductions for taxes and other withholdings as required by law or the policies of the company.
For employment with (Name of Company), you are required to sign the enclosed, standard confidentiality agreement which must be signed prior to your start date.
The current, standard comprehensive company benefits package that includes health, life, disability, vision and dental insurance coverage are offered with this agreement per company policy. Your eligibility for other benefits, including the 401(k), tuition reimbursement, and bonus potential will take place per company policy. The company benefit offerings and employee contribution to payment for benefit plans are determined annually.
As an employee of (Company Name), you will receive nine paid holidays, determined annually by the company.
You are eligible to accrue vacation time off at x.xx hours per pay period. This is equivalent to two weeks on an annual basis. Vacation time off increases per company policy. Personal days are accrued at x.xx per pay period, per company policy, and total seven days annually. All employee benefits are subject to periodic company review and can be changed with or without notice.
You have agreed to start your employment on Tuesday, June 14. Please report to the customer service department where you will begin your onboarding process at 9:00 a.m.
Your employment with (Company Name) is at-will and either party can terminate the employment relationship at any time with or without cause and with or without notice.
You acknowledge that this employment offer letter, (along with the final form of any enclosed documents), represents the entire agreement between you and (Company Name) and that no verbal or written agreements, promises or representations that are not specifically stated in this employment offer letter, are or will be binding upon (Company Name).
If you are in agreement with the above employment offer details, please sign below and return this employment offer to the company. This employment offer is in effect for five business days.
Signatures:
(For the Company: Signature)
(For the Company: Printed Name)
Date
(Candidate's Signature)
(Candidate's Printed Name)
Date
Disclaimer: Please note that the information provided, while authoritative, is not guaranteed for accuracy and legality. The site is read by a worldwide audience. Please seek legal assistance, or assistance from State, Federal, or International governmental resources, to make certain your legal interpretation and decisions are correct for your location. This information is for guidance, ideas, and assistance only.
More Sample Employment Offer Letters