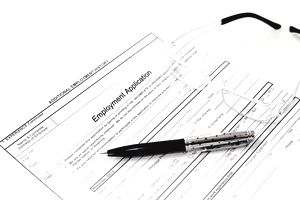 Are you a first-time job seeker who is wondering about the questions you will be asked on an employment application form? Or, has it been several years since you have had to apply for a new position? These sample jobs applications will give you an idea of the information you will need in order to fill out applications for employment. Review them closely, then download a copy, print, and fill it out so that you will know what information you need to have ready to apply for jobs.
A job application is a tool that allows potential employers to learn more about your work experience, skills and certifications, background, education, and more. Traditionally, these forms were printed on paper; now, however, it is becoming common for employers to ask candidates to fill out application forms online. Both paper and digital forms, however, generally ask for the same information.
Because employers will use the application to assess your qualifications - and compare you to other applicants - it's important to make a good impression by filling out the answer fields as correctly and as completely as possible. You can start by organizing your information in advance, so you know you have everything you need.
Organizing Your Information
One way to organize the information you need to fill out a job application - whether online or on a hard copy - is to write it down or type it up. Just be sure to keep it in one place, in a notebook or in a dedicated career search file on your computer, for example.
Storing your information in Microsoft Word or in a Google document can be a tremendous timesaver.
There's a good chance a hiring manager will conduct a background check on you during the application process to make sure you're telling the truth about your history, so be sure to keep very accurate and up-to-date records.
There is a lot of information you need to gather before filling out a job application, from personal information and educational background to work history.
 Most people can't remember every detail about their former employers (for example, their exact address), particularly if their tenure with them was more than a few years ago. If you wish to use these past employers as references, you will also need to make sure you have their correct phone numbers and email addresses – both so that you can ask permission to use them as references and so that potential employers can easily and swiftly contact them.
Even if you have all of your information in order, you might want to take this opportunity to double-check it for accuracy. You can find this information on the Internet or directly from your former employer. 
Personal Information Required for a Job Application
Name
Address, city, state, zip code
Phone number
Email Address
Social security number
Are you eligible to work in the United States?
If you are under age eighteen, do you have an employment certificate?
Have you been convicted of a felony within the last five years? (information about convictions varies based on state law)
Education and Experience Needed for a Job Application
School(s) attended, degrees, graduation date
Certifications
Skills and qualifications
Grade Point Average (G.P.A.), if this was above 3.50
Extracurricular activities where you held a leadership role
Honor societies
Employment History Required
Employer
Address, phone, email
Supervisor
Job title and responsibilities
Salary
Starting and ending dates of employment (month, day, and year)
Reason for leaving
Permission to contact the previous employer
References 
Name
Job title
Company
Address, phone, email
By making the effort to compile all of the information you'll need for job applications ahead of time, you'll find that the process of filling out numerous traditional or online applications will become much less onerous. Good luck with your job search!