Sales Interview Questions and Best Answers
Common Sales Interview Questions and Sample Answers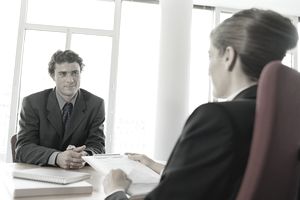 When you are interviewing for a sales position, your goal is to sell yourself to the hiring manager. A sales job interview is among the most challenging of interviews — interviewers will have high expectations for your persuasive powers, and candidates will need to do more than simply respond to questions.
Because your job, if you're hired, will require you to be an effective salesperson, the hiring manager will expect candidates to do just.
You'll need to sell yourself, your qualifications for the job, and show the interviewer that you have the ability to close a deal.
Below, you'll find helpful strategies for how to respond to interview questions, along with examples of common sales interview questions and sample answers. Review them to help frame your responses based on your own qualifications, skills, product knowledge, achievements, and sales experiences. Also review a list of questions to ask your interviewer.
Tips for Answering Interview Questions
Every response you give to interview questions should include concrete examples of your sales achievements. It's important to be clear about how you can help the company and grow sales. Include numbers to back up statements. For example, you might say, "At XYZ company, I was responsible for bringing on ABC account, signing a contract that resulted in XX profit over YY time."
If you quantified your achievements on your resume, share some of those numbers and percentages in your responses.
If you didn't include numbers on your resume, take a few minutes to make a list of your best achievements to share with your interviewer. Saying "I increased annual sales by 50% year over year" sounds much better than "I increased sales last year." 
Interviewers will be looking for you to demonstrate that you have the necessary skills.
Review this list of sales skills, and look for ways to highlight your mastery of them in your answers. 
In addition, be sure to tailor your responses to reflect the company's products, services, and goals. Spend time on the company website and researching the company online, so you are clear about the company's mission. The more you know about the company, the better equipped you'll be to respond.
Sales Interview Questions and Sample Answers
Sell me this pen - Best Answers
What are your long term career goals? - Best Answers
What are your strengths and weaknesses? - Best Answers
What do you find most rewarding about being in sales? - Best Answers
What do you know about this company? - Best Answers
What do you least like about being in sales? - Best Answers
What interests you most about this sales position? - Best Answers
What is more important, a quality product or excellent customer service? - Best Answers
Questions to Ask the Interviewer for Sales Jobs
Interview questions to ask the interviewer when you are applying for a sales position.
What qualities does a successful salesperson at your company possess?
What direction do you see this company taking in the next five years?
What is the quota for this position?
What percentage of employees meet their quota?
What percentage of employees exceed their quota?
Is there a lot of travel associated with this position?
How is the commission structured in this position?
Do many people achieve bonuses for high levels of sales?
How much flexibility does the salesperson have in negotiating price with the customer?
What do you see as the most difficult challenges for the sales team at this company?
How many people are on your sales staff?
How do you motivate your sales staff?
What does a typical work day/week look like at this company?
More Interview Advice