Ripple Glass Makes Recycling a Smash in Kansas City
Recycling operation diverts glass containers from the solid waste stream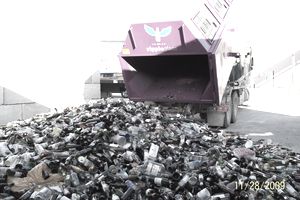 Kansas City Missouri is one area where the challenge of keeping empty out of the trash has been met by Ripple Glass, a glass recycling company located in the city. Before the launch of the company in 2009, less than five percent of glass was being recycled.
The company started as an offshoot of Boulevard Brewing Company, a local craft brewer which sells over 10 million bottles of beer annually in the Kansas City area.
The desire for product stewardship was really at the heart of the desire to build the plant and promote glass recycling . With the help of capital from local businesses and some grant funding, the company built a processing plant and distributed around 60 of its eye-catching purple bins around the Kansas City metropolitan area.
Since the local MRF would not accept glass from curbside collection, Ripple had to take a direct approach to collection. Its aim is to have a bin no more than 5 minutes away from any resident. Most bins are located in retail locations such as grocery and liquor stores.
A smashing success
The glass recycling initiative has been a "smashing" success. Since 2009, the glass recycling rate in Kansas City has increased to about 20 percent, including more than 100 drop off locations. The company has partnered with a local hauler to offer a business pick-up route, and have also expanded to accept glass from more than 50 municipalities in Missouri, Kansas, Nebraska, Iowa, Arkansas, Illinois, and South Dakota.
 Some locations have adopted the Ripple "purple" program as their own, says Michelle Goth, Recycling Program Manager at Ripple Glass.
The planning and design for the plant took about a year, with the operation built over the course of about six months, and at a cost of roughly $5 million. Equipment was largely purchased from Binder+Co, but other vendors were utilized.
Mike Utz, one of the Principals of Ripple Glass is the Lead Engineer for Boulevard Brewing Company, and lent his expertise to the design and building of the plant, along with Fred Fish, the now retired Plant Manager.
Partnering with business for bin location
The actual Ripple Glass recycling process involves the deployment of the attractive purple bins, collection and a multi-step sorting and grinding process that produces amber glass for new bottles and other cullet to be sold to Owens Corning. One unique aspect of the Ripple Glass business is its partnership with its hosting businesses such as grocery, liquor stores, and the engagement of people at the various locations to help ensure success. Each business designates an individual or team to check on the bin and alert Ripple when it is full. "Most feel that hosting a purple bin helps drive traffic to their stores, but all of them care about Kansas City and want to support the community," Michelle explains.
Michelle notes that one location advantage enjoyed by Ripple Glass is the close proximity of a buyer of its glass cullet, Owens Corning, which uses recycled glass in the production of fiberglass. The plant can sort out amber glass, which is shipped to The Ardagh Group in Sapulpa, Oklahoma, to be used to make bottles for the Boulevard Brewing Company.
The company encourages active engagement with the recycling public through its lively Facebook page.
Tips for community glass recycling efforts
"Glass recycling is most economical and sustainable when it's done regionally," Goth explains. Communities who would like to recycle glass should seek out their closest glass processor, and discuss what type of glass is accepted, as well as how glass should be transported to the processor. "Collecting glass separately is the optimal solution," she notes, as 95 percent or more of this glass will ultimately be recovered for use in new products. Glass collected with other materials in a single-stream system is downcycled or landfilled at a rate of 60%, on average.