Net Worth of RHOA Stars: From NeNe Leakes to Cynthia Bailey
How much "Real Housewives of Atlanta" cast members get paid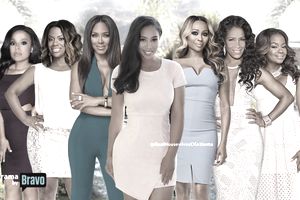 What is the net worth of reality TV stars such as Cynthia Bailey of "The Real Housewives of Atlanta" franchise? With this brief overview, learn more about how much the stars of the hit reality show make.
How the RHOA Stars Get Paid 
How much do the stars really make? First, they are paid by the season, not by the episode. Kandi Burruss earns the most per episode and is likely paid more for participating in the RHOA reunion shows than any of the other stars, a distinction NeNe Leakes once had.
The following information was taken from public sources, and the stars are listed in order of who is paid the most to least (not in order of net worth.)
Kandi Burruss
Paid Per Season: $1.9 million
Estimated Net Worth: $35 million
Kenya Moore
Paid Per Season: $1.4 million
Estimated Net Worth: $800K
Phaedra Parks
Paid Per Season: $1.3
Estimated Net Worth: $2 million 
Cynthia Bailey
Paid Per Season: $1.2 million; Ex-husband Peter Thomas got $20K
Estimated Net Worth: $500K - Peter's net worth is estimated. at $3 Million)
Sheree Whitfield
Paid Per Season: $800K
Estimated Net Worth: $100,000
Porsha Williams-Stewart
Paid Per Season: Unconfirmed est. $700K
Estimated Net Worth: $500K
Wrapping Up
These figures represent what the RHOA stars were reportedly being paid as of February 2017. Salaries change from season to season, just as the stars of the show come and go. The pay the women on the show receive may fluctuate depending on their storylines in recent seasons.
A reality star who drives much of the drama on the show may be able to negotiate for a better salary for the following season or whenever her contract ends. Reality stars may also receive more money depending on the role their friends and family members play on the show. 
If their loved ones routinely appear on the show, the showrunners may pay that particular star more money as a result.
In contrast, if a star does not appear to be adding to the show's storyline by creating drama or bringing in interesting friends and family members, their role, and pay, could be diminished. In any case, she certainly wouldn't be in a position to make more money. It would be like asking your boss for a raise when you've been doing mediocre work.
A Word of Caution
The salaries listed above are based on media and website reports and should not be viewed as 100 percent accurate. Short of seeing a particular reality star's contract, it's impossible to know for certain just what her pay is to appear on the show. And factors such as loans, debts, bankruptcies, acquisition or loss of real estate property all affect a person's net worth. Just as your financial situation fluctuates from year to year, the same is the case for the stars of reality television franchises such as the "Real Housewives of Atlanta." This makes it difficult for you to compare their net worth to yours or one's worth to another's.
Sources:
Celebrity Networth
Newsone. How Much Do Those Real Housewives of Atlanta Make? Ruth Manuel-Logan, April 10, 2012.