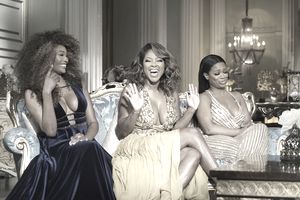 Have you ever wondered about the ages of reality television stars like Phaedra Parks and the other members of the Real Housewives of Atlanta cast? Some of the stars try to hide their ages and give the impression that they're younger than they really are. It helps that they take great care of themselves and perhaps rely on a little cosmetic help, too.
With a bit of sleuthing, however, it's possible to track down the years the RHOA stars were born, as well as their places of birth.
This list includes the ages of both current and previous cast members of the show as of October 2017.
Porsha Williams-Stewart
Porsha was born on June 22, 1981 in Atlanta, Georgia. Her birth name was Porsha Williams. She's 36 years old. 
Kim Zolciak
Kim is 39 years old. She was born Kimberleigh Marie Zolciak in Pensacola Florida on May 19, 1978. 
Kandi Burruss
Kandi was born Kandi Laniece Burress on May 17, 1976 in College Park, Georgia. She's 41. 
Phaedra C. Parks
Phaedra left the series before Season 10 premiered in 2017 after a scandal involving rumors she allegedly repeated about a fellow cast member. She was born on October 26, 1973 in Georgia and is 44 years old. She attended Clarke Central High School in Athens, Georgia.
Marlo Hampton
Marlo was born on February 7, 1972. She's 45.
Kenya Moore
Kenya was born on January 24, 1971. That makes her 46 years old in 2017. Her birth name is Kenya Summer Moore.
She was born in Detroit and was raised by her grandmother.
Sheree Whitfield
Sheree was born January. 2, 1970 in Shaker Heights, Ohio. She's 47.
Lisa Wu Harwel
Lisa is 44. She was born Sharon Millette in Inglewood, California on January 23, 1973. 
Cynthia Bailey
Cynthia is 49. She was born February 19, 1968 in Tuscumbia, Alabama.
NeNe Leakes
NeNe was born Linnethia Monique Johnson in Queens, New York on December 13, 1967. That makes her age 49 as of October 2017. 
Eva Marcille
Eva joined the cast in Season 10. She was born October 30, 1984 in Los Angeles. Her birth name is Eva Marcille Pigford. She's 33. 
Wrapping Up
Unlike some reality shows where the stars skew younger, the "Real Housewives" franchise includes women from a more mature age group. Except for Porsha Williams-Stewart who would be considered a millennial, the RHOA cast tends to fall squarely into the now aging Generation X.
In a youth-obsessed culture, it's understandable that some women who work in Hollywood wouldn't want to disclose their ages. In fact, websites such as the Internet Movie Database (IMDB) have faced lawsuits for publishing the birth dates of actors and actresses. Women in the business complain that they especially suffer when their ages are published online. They say they're turned down for jobs and miss out on other opportunities.
Given that many people turn to reality TV to launch or revive careers in the entertainment industry, keeping one's age under wraps may just come with the territory.