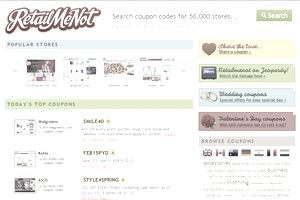 RetailMeNot is a website that has coupon codes for over 50,000 online stores. These coupon codes get you free products, free shipping and discounts on orders you make online.
How To Find the Coupon Codes
Visit RetailMeNot and type the name of the website you want to find a coupon code for in the search box and click Search.
If there are coupon codes available, you'll see a section called Active Coupons.
You'll see a percentage and the higher it is, the better chance the code will work. To the right of this you'll see the coupon code and description of what it can be used for.
Under the active coupons, there may be a section called Unreliable Coupons. There's less of a chance that these coupon codes are valid but they may still work for you.
How To Use the Coupon Codes
Click on the coupon code that you want to use. This will copy the coupon code and open up a new window for the website you want to shop at.
All websites work a little differently when applying coupon codes. Sometime during the checkout process, you'll find a place to enter the coupon code. You should see a recalculated order total reflecting your coupon code discount before you submit your order.
If you have trouble applying the coupon code to your order, you can find more detailed directions on how to use coupon codes from Donna L Montaldo, Expert to Coupons/Bargains.
How To Leave Feedback
RetailMeNot works so well because visitors like you share how well a coupon code worked. You can click the green checkmark if the coupon code worked on your order or the red X if it didn't work. You can also leave a comment sharing your experience.
How To Post New Coupon Codes
If you know of a coupon code that isn't already listed at RetailMeNot, you can post the new coupon code so other shoppers can take advantage of it.
Click on the yellow Share the love... box on the right side of the homepage to get the Share Your Coupon form. Enter the name of the store, type of code, code and discount details.