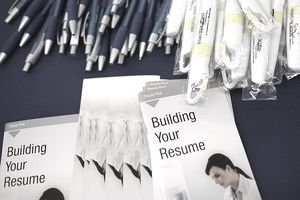 There are many reasons for employment gaps, especially given the difficult economy of the past few years. Whether your employment pause has been by choice or by circumstance, there are plenty of things that you can do, and probably have been doing, to fill your time, and which deserve recognition on your resume.
Volunteer Work
Volunteer work can bolster your resume in many ways. Any achievements you have as a volunteer count when a hiring manager is considering you as a prospective employee.
Perhaps you volunteer at a homeless shelter, food pantry or domestic violence shelter or teach literacy through the local library.
The fundraising you did for the new playground at the elementary school and specific grants you wrote for and received can all be included. Be specific about the skills used and gained through your volunteer experience, and how they apply to the job you are seeking.
Coaching and Tutoring
Tutoring and coaching sports are also positions that can often be put on a resume. The one-on-one and team relationships you help to strengthen through these activities are valuable in the workplace. Point out their value in the position to which you are applying. Internships can also be included on your resume.
Freelance, Part Time, and Temp Work
Part-time, temporary, consultant, and freelance work are also ways that many people stay busy - and earn money - between full-time positions.
These types of positions can be valuable in gaining knowledge useful in your next full-time permanent position, and should be included and highlighted on your resume. Be sure to explain how these experiences relate to the position for which you are applying.
Continuing Education
Going to school, and continuing education courses you take between jobs, also contribute to your skills and experience, and as such, should feature prominently in the Education section of your resume.
Where possible, be specific about the courses taken and their direct influence on your qualifications for the job.
The new skills you have attained can be listed in the Skills section of your resume.
How to Decide What to Include
You don't need to include all your other experience on your resume. In fact, you can have several different versions of your resume, and it's always a good to write a targeted resume for each job you apply for.
Make a list of everything you have done while you have been out of the workforce. Then decide what experience is related, even peripherally, to the jobs you are interested in. Start by including those experiences on your resume. What's important is relevancy.
Also, include any continuing education classes, workshops and other educational programs you have taken or participated in, as well as new skills you have learned during the time when you weren't actively employed.
Where to List Your Other Experience
Depending on the position, you can list it in the Experience section of your resume or you could add a "Volunteer Experience" section to your current resume if you have a variety of volunteer positions to include. Here are examples of resumes including volunteer work:
Your experiences between jobs can be as important as the jobs you have held. Utilize your time between jobs in a productive way, and make sure that you highlight the most relevant points on your new resume.