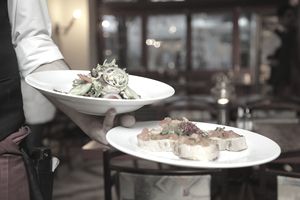 A food show is just like any other industry trade show. It is a place where vendors of the restaurant and hospitality industry gather, to showcase their products, drum up new business and network. As a restaurant owner or employee, your food distributor, like Sysco or PFG, will hold a food show once or twice a year, usually in the spring (to get ready for the busy summer season) and in the fall (to get ready for the busy winter season).
Vendors from small and large companies put on demonstrations and product displays. They offer discounts and rebates on certain products.
Why Go to a Food Trade Show?
To save money. You can get great deals on products you already buy. For example, the company who makes your French fries may be offering a dollar off a case for the next six weeks. If you buy 100 cases of fries, that's $100 in your pocket. Attending a food trade show is also a good way to see new items and menu trends, all under one roof. You may pick up some lobster ravioli for a new dinner special. Or you may find new pre-made desserts that will help increase sales. You can also connect with your local restaurant association at these trade shows and find out about the latest news concerning the restaurant and hospitality industry.
Before You Go to a Food Trade Show
Your food sales rep will give you book with every vendor listed in it.
You should go through and see the deals they offering. Mark the pages and booth number so you know who you want to see during the show.
Next you should make a list of menu items you want to look. Perhaps you want to try out new bread, or bring on a new line of appetizers or desserts. Having a list will help keep you on track during the show, which can be very loud and crowded.
It is easy to forget some foods you wanted to look at amidst all the crowds and noise. Also bring along a pad of paper to jot down booth numbers you want to take a second look at.
During the Food Trade Show
Arrive as early as possible to beat the crowds. If the show starts at 9am, be there at 9am, because by noon time the place will be jammed pack with other restaurateurs and employees. Dress in comfy shoes and clothing. You will be on your feet for a few hours, at least. You will also be tasting food (the best part of the food show). Keep in mind you are representing your business, so a shirt with your name and logo is ideal.
It is tempting to gorge yourself on all the tasty samples of food. And while you want to try different items, pace yourself. You don't want to be so over-stuffed that you get tired and need a nap (been there, done that). Pace yourself, nibbling here and there. Don't worry- you won't leave hungry.
After the Food Show
Sit down and go though all your notes and flyers as soon as possible. Make a list (yes, another list) of the items you ordered as well as the rebate or discount that comes with each one. Be sure to check your invoices on your food orders, to make sure they reflect the deals you made at the food show.