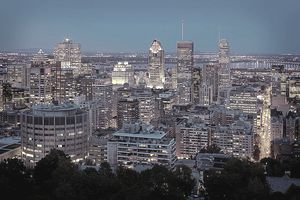 Back in late 2015 I had the opportunity to speak in Montreal at Concordia University on Climate Change and Investment Strategies, right after the then new Trudeau government was elected.
Justin Trudeau and his new cabinet are now further accelerating the province by province move towards more responsibility in investing and policy, as Canada moves towards a national price on carbon.  
This is true even in Alberta where the main oil reserves of the country exist.
 Rachel Notley of the NDP launched a climate change strategy that has been widely heralded, and Canada was a positive contributor to the global climate change negotiations that led to the now agreed and accepted Paris Agreement.
Looking back a bit, in mid 2014 I had spoken at what was an excellent, buzzing responsible investing conference in Toronto, Ontario in Canada. Called the RIA, what was until last year was known as the SIO, hosts an annual gathering of financial professionals interested in or already working with applying environmental and social considerations to investment.  Around 350 professionals gathered to hear a variety of topics discussed, all of which are gaining in relevance.
First off on Monday was a panel on the issue of economic inequality, featuring excellent speakers including Bob Walker and Michelle de Cordova of NEI Investments, Kevin Ranney of Sustainalytics and Adam Kanzer of Domini.
 Of particular interest was the recent effort to pass a shareholder resolution on Google paying a more fair share of corporate tax.  Recent articles go into the details on this such as this recent piece in the Guardian.
Next was myself, along with Dermot Foley of Vancity and IA Clarington, on Carbon Constraints and Investment Strategy.
 As per my recent piece on The Problems with the Divestment Campaign, I argued at length for those pitching for a divestment campaign instead consider how to influence investment strategy, so that capital can enable the necessary energy transition.  Dermot eloquently stated the case for the strategies his firm deploys, and as he stated earlier this year for Corporate Knights: "It's part of our overall strategy of encouraging all participants in the market to wake up to the possibility of very real carbon constraints."  
The following plenary went into detail on Impact Investing in Canada, one more case of the need for capital not yet met by adequate projects on the ground, as well as additional creativity within the sphere of allowable investment infrastructure.  An impact investing fair followed, along with the first opportunity for detailed networking, as conference attendees considered all they were hearing and learning.  
For myself, the following morning provided the opportunity to sit on one more panel on climate change and investment strategy, in which we went into more depth on this subject, including hearing from a representative of 350.org.  
Prior to this, Mariam Dao Gabala, West African Regional Representative for Oikocredit gave an eloquent and touching overview of impact investing in practice in Africa, where a project to build a market for uneducated women to sell their produce was a rousing success, leading to further related education and health facilities on the ground.
 Scaling such smaller ideas into capital which can be deployed to a larger extent is clearly the next hurdle, but providing case studies of success is as always a necessary first step.
Other concurrent panels on the Tuesday morning included talks on RI Basics and Anti-Corruption, and were followed by a panel on the performance myth, how extractive companies can try to be sustainable, and more on human rights and digital technology.
The conference wrapped up on the Wednesday with an indepth discussion on the Future of Responsible Investment.  As I wrote earlier today in a blog for LinkedIn while SRI is starting to make serious inroads, ESG really needs to be integrated by all mainstream investors, or certainly many more assets than currently is the case, so that meaningful environmental and social progress can be made and realized.
The annual responsible investing conferences in Canada are always excellent, as was the equivalent event in Montreal two years prior.  This was the first iteration of RI Week in Canada, including other side events hosted by PRI and others.
In late September 2014 in Montreal, there was another week of events, in this case the Global PRI events, both the PRI In Person and Academic Network events, as were co-hosted by the excellent folks at Concordia University, which added fuel to Montreal and Canada becoming leaders in Sustainable Investing.  In March of 2015, an exciting Action on Climate Change plan was also launched in Montreal, which is world leading on how a nation can do all it can on energy consumption and related planning.
Canada is right in the middle of all that is happening in many ways - a resource rich country that is also keenly socially aware and focused, and environmentally concerned.  Keep a keen eye on Canada as a country always willing to dive in and tackle the world's toughest problems.  
The challenge for Canada is to diversify its economy away from resources and related banking activities, but on consumption, we could learn a thing or two down here in the States from what is happening in Canada.