What are the Best Residential Construction Performance Guidelines?
Read on to find out!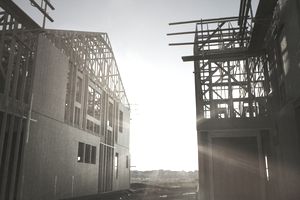 In residential construction, must builders always build while customers always complain? By building  houses, apartments and garages to recognized standards, there should be less reason for dissatisfaction and more smiles on more faces. Residential construction performance guidelines are drawn up with quality of building methods and deliverables in mind. There are a number of versions available to builders.
Here are our guidelines to help you pick yours.
The "Big Mac" of Residential Construction Performance Guidelines
Did you know that the McDonald's Big Mac is so widely served all around the world that economists use it as a way of comparing national economies? The book "Residential Construction Performance Guidelines" (fourth edition) from the National Association Of Home Builders (NAHB) is probably the closest out of all such works to achieving "Big Mac" status. Not only can you buy it in the US, but also directly in countries like India, Japan, and South Africa. Inside the 126 pages of the book, you get "nearly 300 guidelines in 12 major construction categories", with guidelines specific also to remodeling, advice on critical measurements, and a glossary of common terms.  
Independent Advice with Photos and Pages Galore
"Best Practices Guide to Residential Construction: Materials, Finishes, and Details" by Steven Bliss (published by Wiley) takes first prize in the heavyweight category with its 320 pages.
However, weight and volume are not the only criteria. This book offers over 200 photos and illustrations of residential construction details, setting it apart from other text-only guidelines. The aim is to help builders "create durable, attractive, and affordable custom homes and remodeling projects." Customers may find it a little chunky, but for architects, designers, builders and developers there is a wealth of information.
Guidelines Specifically Drawn Up for Your Region
The two books referenced above are generally applicable, which adds to their attractiveness. The region or state where you do your building business may however have its own guidelines. In the US, there are specific residential construction guidelines published for Texas and California, for example. Similarly, builders in British Columbia in Canada have the "Residential Construction Performance Guide" from that province. The specificity of the BC guidelines is that they are designed primarily for low-rise, wood-frame homes, which typify residential construction in that region.
Coverage for Condominiums as Well as Houses
To make information available for multi-family constructions, including high-rise apartment blocks, Tarion makes its condominium common elements guidelines available online. Tarion is a corporation administering the Ontario New Home Warranties Plan Act. In practical terms, its mandate includes licensing new homebuilders, educating buyers about warranty rights, resolving disputes, and upholding high residential building standards. Tarion also offers a comprehensive online guide to individual house building project standards.
Understandable for Laypeople (Like Your Customers)
When customers understand, from the outset, what they will receive as deliverables in a building project and to which standard, potential disputes down the line can be avoided. It is also a marketing fact (not to be abused!) that when customers know they have immediate access to such information, they are happier to take a builder's word that their house, remodeling project or other will be carried out correctly. The online guides from Tarion, for example, are written with both builders and end-customers in mind. The guidelines from the NAHB (see above) can be also downloaded directly from the web in a free version, just like the Tarion guides and various region-specific guidelines. So be the first to show your customer how to get this information at no charge and score points for being a caring, customer-aware contractor!
And the Best Out of These Options?
Deciding which is the best for you will be your call, naturally. The free, online guides can give you a good introduction: check also if there are specific guidelines for your own region. If you prefer hardcopy to electronic versions, Steven Bliss's book or the spiral-bound version of the NAHB guidelines (which you can buy online) might be the answer.